Each Week Longleaftrading.com will be providing us a chart of the week as analyzed by a member of their team. We hope that you enjoy and learn from this new feature.
After a week where we saw a correction in stock index futures, we will be looking at June Gold Futures (NYMEX:GC.M14.E) to receive a possible flight-to-safety bid. The focus remains on the Russia-Ukraine conflict, where the prospect for violence is extremely high. This shifts the gold market's focus from physical commodity fundamentals to safe haven issues. Further Russia-Ukraine tensions or continued pressure on stock index futures can provide an influx of buyers in the gold market.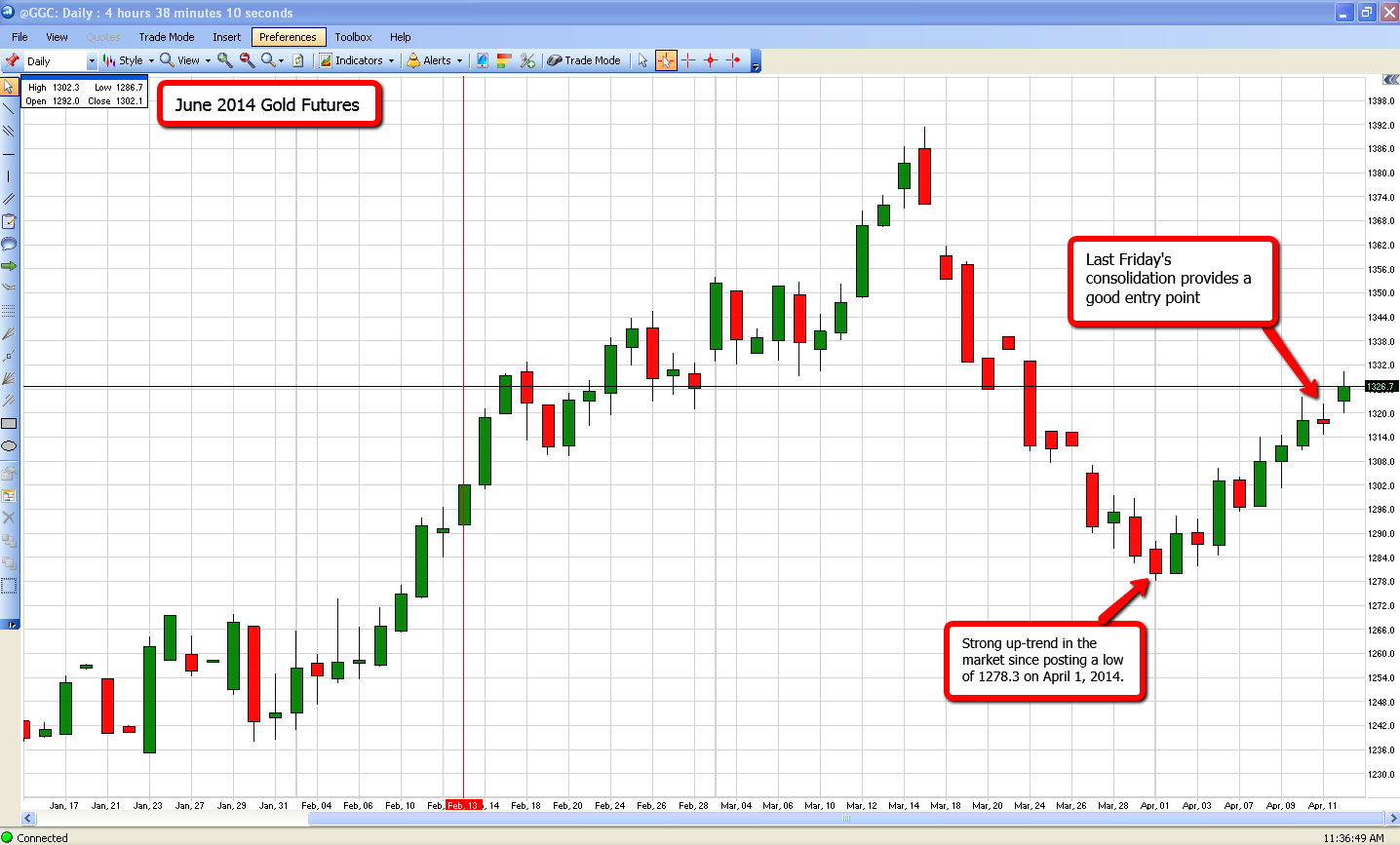 On the technical side, gold has shown a lot of strength after rebounding from its April 1, 2014 low of 1278.3. Last Friday's session was relatively quiet, consolidating and trading within the previous day's range between 1324 and 1310.8. For this reason, along with multiple fundamental catalysts, I would be a buyer in June Gold futures and look for it to reach $1350.00 in the near future.
For a swing trade, I would be a buyer if the market retraces down to $1324.00, last Thursday's high print. If filled, I would look to place a stop below Friday's low of 1314.7 and roll it up accordingly to mitigate risk.
To take advantage of this move with a long-term viewpoint, I would look to purchase relatively inexpensive call options and option spreads where risk on the position is limited to what you pay for the option.
I advise clients on trading futures and futures options markets on a day to day basis. If you have any questions regarding this chart or questions regarding trading futures and futures options, feel free to call me directly at 888-272-6926.
Thank you for your interest,
James Leeney
Account Executive
Phone: (888) 272-6926
www.longleaftrading.com
** There is a substantial risk of loss in trading futures and options. Past performance is not indicative of future results. The information and data contained in this article was obtained from sources considered reliable. Their accuracy or completeness is not guaranteed. Information provided in this article is not to be deemed as an offer or solicitation with respect to the sale or purchase of any securities or commodities. Any decision to purchase or sell as a result of the opinions expressed in this article will be the full responsibility of the person authorizing such transaction.