I was skimming through my portfolios in MarketClub and noticed that Hewlett-Packard Co. (NYSE:HPQ) had three green Trade Triangles, indicating a very strong trend to the upside. I decided to take a look at the chart to see what was making this stock show three green Trade Triangles while the rest of the market was falling.
When I opened the chart on Hewlett-Packard Co. (NYSE:HPQ), I was immediately drawn to a classic technical formation known as a "head and shoulders bottom." This is the same as a "head and shoulders top," only the reverse.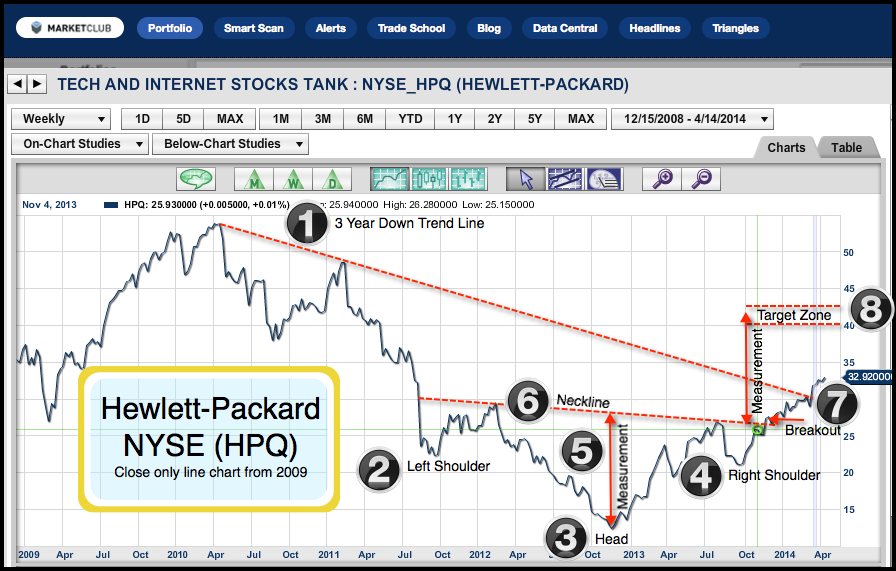 1. Classic long-term downtrend line
2. Right shoulder
3. Head
4. Left shoulder
5. Measurement
6. Neckline
7. Breakout
8. Target zone: $40-$42
To form a "head and shoulders" pattern like this, the market will push down and make a low, then rally. This creates the "left shoulder." The market will then push down again, making a lower low, and rally again, which creates the "head" of the chart pattern. Another push down, which fails to make a new low, and another rally, creates the "right shoulder" of the formation. From there you can connect a trend line from the left and right shoulders and draw in the "neckline."
The "head and shoulders" formation is one of the oldest and most reliable technical formations that can occur in stocks, futures, precious metals and foreign exchange markets. What makes this pattern so reliable and valuable is the fact that you can measure how far the next price swing will go. You measure the distance from the very lowest point of the "head" to the "neckline." Once you have that number, you simply add it to the breakout over the neckline which gives you your upside target zone for whatever instrument you are trading.
Does it work every time? No, but it is another tool you can add to your trading toolbox to help put the odds in your corner. I personally would never bet against this formation.
In the case of Hewlett-Packard Co. (NYSE:HPQ), the "head and shoulders" measurement provides us with an upside target zone somewhere between $40 and $42.
At the moment, the stock is fairly heavily overbought and I would not be surprised to see a pullback to perhaps the $31-$30 area. This opportunity may or may not happen, but certainly the technicals are in place for Hewlett-Packard Co. (NYSE:HPQ) to move higher, in my opinion.
Every success with MarketClub,
Adam Hewison
President, INO.com
Co-Creator, MarketClub