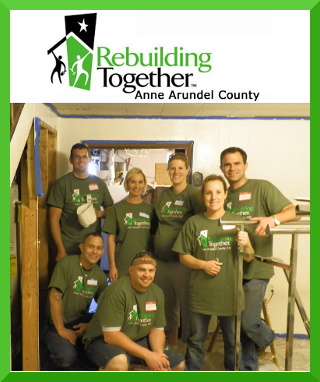 Mother of three and Jamaican immigrant, Ms. Angie, had recently run into some hard times. After being laid-off, home repairs were stacking up and money, ability and a poorly run condo association were all fighting against her. Ms. Angie reached out to Rebuilding Together and asked for a little help to fix a leaky basement, repair below par windows, correct previous repair mistakes and to give her home a little bit of love to make it a residence that she and her children could be proud of.
A few INO.com staff members met up with the Rebuilding Together crew on a sunny day in Severn, Maryland to lend a helping hand. We went to work with some staff of RBC Wealth Management and with dedicated members of Building Together of Anne Arundel County's executive board, on various repair project around Ms. Angie's home and were blessed to spend a Saturday making someone's life a little better.
Please enjoy Rebuilding Together's slideshow of the home improvements that were made that day for Ms. Angie. Learn more about Rebuilding Together from our previous blog post and how you can find a project in your community.
You can also friend our Facebook page and see a ton of photos from the day of INO.com employees getting their hands dirty!