Hello traders everywhere! Adam Hewison here, President of INO.com and co-creator of MarketClub, with your video update for Tuesday, the 6th of May.
In addition to looking at the regular markets I track, I will be looking at four other stocks. Two of the stocks are in bull trends, while the other two are in bearish trends. All four show you the power of the Trade Triangle technology that we have been perfecting over the years.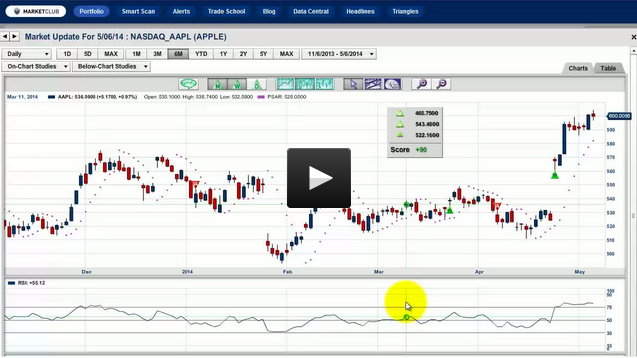 The two bullish stocks are Apple (NASDAQ:AAPL), which I have always liked, and Denbury Resources (NYSE:DNR) which may be new to you, but it's a pretty attractive price and the formation on chart looks very positive.
The two bearish stocks are Amazon (NASDAQ:AMZN) and AthenaHealth (NASDAQ:ATHN). What is interesting about the latter stock is that it was prominently mentioned yesterday by Greenlight Capital Manager, David Einhorn, when he unveiled his latest short investment thesis at the Sohn Investment Conference in New York City. He is thinking that this is a "bubble stock" and it could fall 80% from its highs. I will be analyzing this stock based on the charts and the Trade Triangles.
The Euro has moved to a seven week high against the US Dollar, in spite of what is going on in the Ukraine.
Also, I like the way gold is acting and setting up. I will be looking at this market today and will give you some key levels to look out for the rest of the week.
Lastly, I will be looking at the indices which seem close to a tipping point. One index is certainly in a negative trend, while two others are very close to crossing over to the negative column.
Every success with MarketClub,
Adam Hewison
President, INO.com
Co-Creator, MarketClub
Adam appears frequently on the following financial news channels as a guest expert. Click on any cable logo to watch Adam's latest appearance.