Hello traders everywhere, Adam Hewison here, I hope you all had a great weekend and are ready to start another exciting week of trading. As we start this week, we want to first look at Apple (NASDAQ:AAPL). You may or may not be aware that Apple officially split it shares over the weekend with a 7:1 stock split. That means for every share of Apple, you now own seven new shares at a lower price. It seems like Apple is angling for a spot in the DOW. This morning we adjusted our chart scale to reflect the 7:1 split for Apple and show the new share value. We will take a closer look at Apple and see if it is worth buying at its new levels.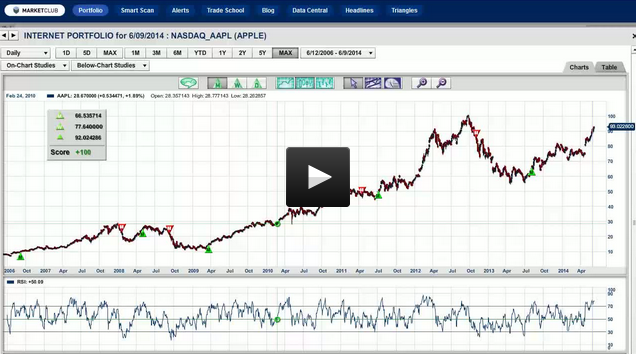 Also, we will be looking at MarketClub's Internet portfolio, which contains the following stocks; Facebook (NASDAQ:FB), Yahoo (NASDAQ:YH00), Yelp (NYSE:YELP), Amazon (NASDAQ:AMZN) and finally Netflix (NASDAQ:NFLX).
Today's video will show you exactly where you should or should not be in each of these stocks.
Every success with MarketClub,
Adam Hewison
President, INO.com
Co-Creator, MarketClub