One of the real jewels in MarketClub is the Smart Scan technology. This powerful, easy-to-use technology allows you to scan thousands of markets and find out what's trending and which way that trend is headed.
For example, you could look for markets that have a strong trending Score or you might look for markets that are in a trading range to perhaps write options against.
If you have been a member of MarketClub for a while, you have seen me write about "The 52-Week New Highs on Friday" rules. If you haven't seen this trading concept yet, then check out today's video as you will learn something that you may not know.
Today I'm going to be using Smart Scan technology to look for stocks that are making new 52-week highs. I'm then going to filter that list down to fit my own price and volume needs.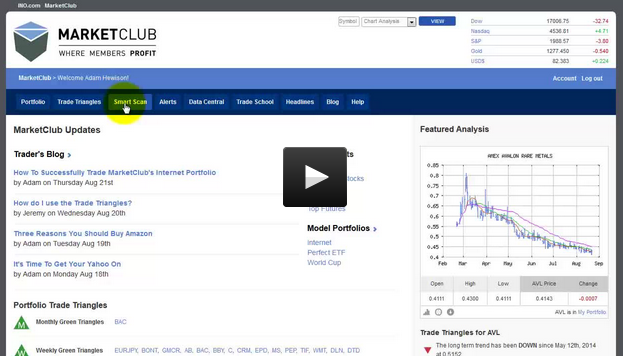 Below are the rules of this trade strategy. I learned this trick many years ago from a trader named Bill, when I was member of the Chicago Mercantile Exchange trading on the floor. It's a good one and I want to share this strategy with you today.
Here are the three rules you need to trade "52-Week New Highs on Friday":
Rule #1: On a new 52-week high, when the market closes at or close to its high on a Friday, buy and go home long for the weekend.
Rule #2: Exit long position on the opening the following Tuesday.
Rule #3: If the market opens sharply lower on Monday, exit this position immediately.
"The 52-Week New Highs on Friday" rules works extremely well in futures and in Forex.
Have a great weekend and every success with MarketClub,
Adam Hewison
President, INO.com
Co-Creator, MarketClub