It has been quite a week for Apple Inc. (NASDAQ:AAPL) with the news that its iCloud storage system had been hacked, and stolen photographs of nude celebrities starting popping up everywhere on the web.
Apple did issue a statement saying that certain celebrity iCloud accounts were compromised, but notes, "None of the cases we have investigated has resulted from any breach in any of Apple systems including iCloud's find my phone feature. We are continuing to work with law enforcement to help identify the criminals involved."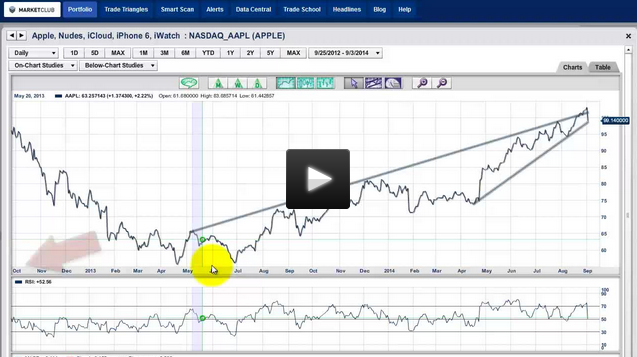 What that indicates to me is the fact that the hackers were looking for specific names and photographs that they could use as currency. I heard today that some photographs from the paparazzi can sell upwards of $50,000 or $100,000 so they are valuable to certain entities and enterprises.
It All Happens Next Week
Starting on the September 9th, Apple Inc. (NASDAQ:AAPL) Is expected to introduce a new iPhone 6, possibly a bigger iPad and maybe, just maybe the fabled iWatch which has been coming since the start of 2011. The question has to be, is this going to be enough to push Apple's stock higher or is it going to be a huge letdown as in, buy the rumor sell the news.
There is no doubt about it out. Apple has done extremely well since its 7:1 stock split. The move (stock adjusted) over the previous high of $704 was no small achievement. I believe that Tim Cook is doing his very best after taking over the helm at Apple after Steve Jobs passed away. What Apple needs at this time is another revolutionary product, and that's hard to do with the company that is now over 30 years old.
In today's video, I will be examining today's market action, which so far has pushed Apple's stock down 4.4%. Does this mean that Apple isn't going to produce the goods on the 9th, or that the recent price action has already discounted a successful product launch.
So, until next Tuesday, I'm holding my breath waiting to see what Apple Inc. (NASDAQ:AAPL) is going to bring to the table. Is it going to be a game changer big enough to cause its stock to move higher or is it just going to be a bigger screen iPhone? Only time will tell.
Every success with MarketClub,
Adam Hewison
President, INO.com
Co-Creator, MarketClub