Yesterday, Apple, Inc. (NASDAQ:AAPL) had its big reveal. Unfortunately for Apple, everything that they revealed was pretty much known before the event. The knowledge was instantly transferred to pressure on Apple's stock price which closed lower for the day after rallying close to an all-time high.
I think the products are all beautifully designed. The iWatch, now known officially as the Apple Watch, is not available until 2015 which means no revenue stream from this new product until next year.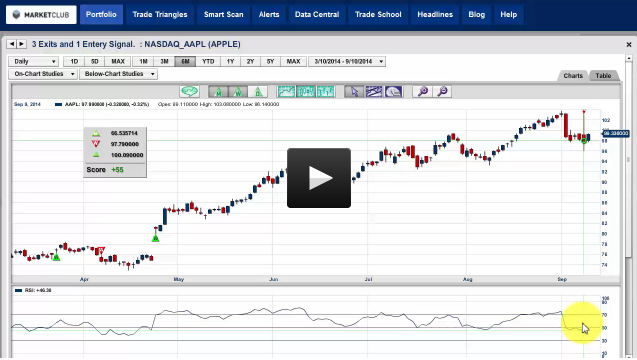 I remember when Apple came out with its first iPad, I said to myself, "this is just like a big iPhone, how are they going to sell that?" Well, it turns out they sold a lot of them and it certainly helped propel their stock to new highs making Apple the most valuable company in the world.
I believe that eventually like the iPad, the Apple Watch will be accepted and people will consider it a necessary item to have for their health and well-being.
Much has been said about the new iPhones and the Apple Watch, but the real game changer in all this could be ApplePay. ApplePay is a new payment system that uses NFC (Near Frequency Communication) and will be available on the new iPhones and Apple Watch. This new way of paying for stuff is a lot more secure than credit cards getting hacked from a major retail company.
Eventually I believe ApplePay will be a huge moneymaker for this company. Until then, we may witness the stock of Apple acting a little sluggish. Should Apple close lower than last week's close of $98.89, it would confirm based on a negative engulfing candle that a top was in place for Apple, which is going to take some time to overcome. With the Trade Triangles flashing a red weekly Trade Triangle, I suggest being on the sidelines in Apple for the time being.
Amazon.com, Inc. (NASDAQ:AMZN)
Amazon.com, Inc. (NASDAQ:AMZN) hoped to strike an early blow against Apple by lowering the price of its phone to just $.99. This was seen in the market as a move of desperation, which pushed the stock of Amazon down dramatically and flashed a weekly red Trade Triangle indicating an exit and sideline position on Amazon. This does not mean that the major bullish trend for Amazon is over, it just means that a sideline position is warranted at this time.
eBay, Inc. (NASDAQ:EBAY)
eBay, Inc.(NASDAQ:EBAY) was another popular stock that flashed a red weekly Trade Triangle indicating that a sideline position was warranted at this time.
DOW, S&P 500, NASDAQ
I posted on our blog on Monday that the DOW, S&P 500 and NASDAQ were all getting a little ahead of themselves and looking a little top heavy. After a splendid August which saw gains in all three indices up and over 3%, we are now in a situation where investors are asking themselves, "can these markets sustain the growth?" Reports out of Europe indicating that sanctions against Russia would hurt the world's economy is causing doubt as it ripples through investors' minds. Also, tonight's address by the President in regards to the Mideast challenge will probably have a direct bearing on the markets on Thursday and Friday.
Lastly, I gave you the red line levels for each of these indices earlier and I'll go through that again in today's video to emphasize that if these levels are taken out, you should exit to the sidelines as soon as possible.
Every success with MarketClub,
Adam Hewison
President, INO.com
Co-Creator, MarketClub