The last few weeks have been very volatile in the markets, with triple digit swings seeming to be the norm in the Dow. The question is, how can you position your portfolio and reduce your risk in a market like this?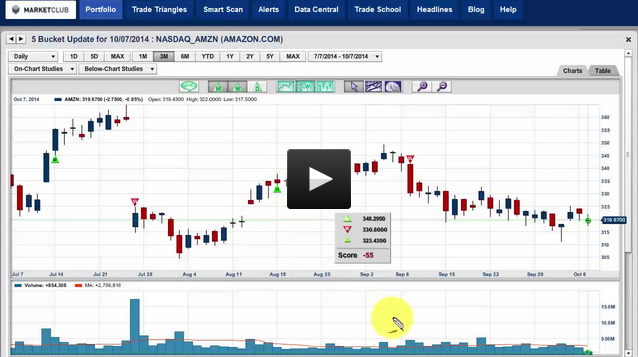 Well in some ways, it's easier than you can imagine. Here at MarketClub, we always advocate diversification and spreading the risk. An example of that would be MarketClub's Internet portfolio that we make available to all members on a daily basis.
Presently, this portfolio has only a one position in the market. This means that we have 80% of our capital safely on the sidelines. With 20% of our capital working in the marketplace, it is easy to sleep at night and not have to worry about these giant up and down swings. Using the Trade Triangles, much of the guess work is taken out of the equation.
Here are the 5 stocks in the Internet portfolio:
Amazon.com Inc. (NASDAQ:AMZN)
Facebook Inc. (NASDAQ:FB)
Yelp Inc. (NYSE:YELP)
Yahoo!Inc. I (NASDAQ:YH00)
Netflix Inc. (NASDAQ:NFLX)
While the major trend in all of these stocks remains positive, the intermediate trend for the stocks that are on the sidelines is negative, indicating a trading range. Only Facebook has both the monthly and the weekly Trade Triangles showing green and in a positive mode.
At this point in time, no one knows if this is the top of the market or we're just chopping around here to build a base to go higher. As they used to tell me in the trading pits in Chicago, "they don't ring a bell at the top of the market."
In today's video, I will be looking at our Internet portfolio, along with the general market and a special look at gold (FOREX:XAUUSDO).
As always, we welcome your feedback. If you have questions about any of these stocks or any other market, please feel free to add a comment below.
Every success with MarketClub,
Adam Hewison
President, INO.com
Co-Creator, MarketClub