I was scanning through the Trade Triangles list this morning to see what was new and exciting when I discovered that Under Armour Inc. (NYSE:UA) had flashed a weekly buy signal to the upside.
Business Profile
Under Armour, Inc. (NYSE:UA), together with its subsidiaries, develops, markets, and distributes branded performance apparel, footwear, and accessories for men, women, and youth worldwide.
What I was looking for in this scan was weekly Trade Triangles that matched their monthly Trade Triangles. I wanted both the weekly and monthly Trade Triangles in the same direction and color. I have to admit, there were not many that match this criteria.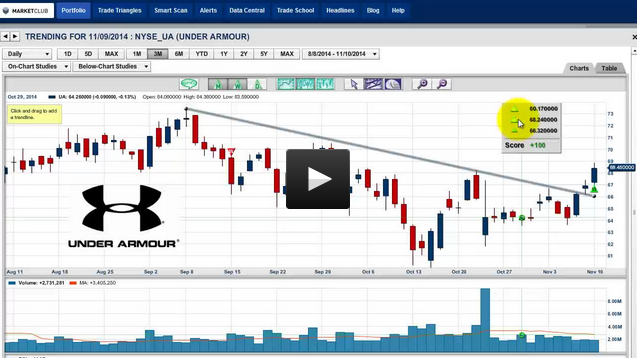 I found two more, but they were on the downside. These two stocks are in strong downtrends and look to be headed to the basement.
Rayonier, Inc. (NYSE:RYN)
Business Profile
Rayonier, Inc. engages in the sale and development of real estate and timberland management, as well as in the production and sale of cellulose fibers in the United States, New Zealand, and Australia.
Michael Kors Holdings Limited (NYSE:KORS).
Business Profile
Michael Kors Holdings Limited is engaged in the design, marketing, distribution, and retailing of branded women's apparel and accessories, and men's apparel.
In today's short video, I will be examining all three of these stocks in depth. If you'd like to discuss these or any other stocks, please feel free to comment below this post and we will reply to your comments.
Every success with MarketClub,
Adam Hewison
President, INO.com
Co-Creator, MarketClub