Hello traders and MarketClub members everywhere! At the beginning of December I published a post titled, "December Can Be A Dangerous Month For Traders." It looks like that prediction is coming true as we are seeing increasing volatility not just in stocks, but in the broad indices as well.
In today's video, I'm going to be looking at five major stocks that are in major trouble, in my opinion. These are all well-known stocks that have, at one time, been the darling of investors' portfolios. I have always believed in Newton's Law of Gravity and it would appear as though these five stocks are coming back down to earth.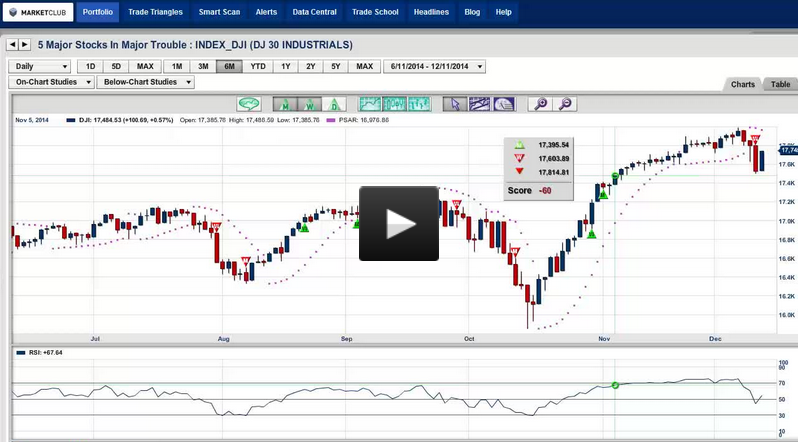 I'm going to start off with perhaps the biggest name, it is a service I use every day as I am sure you do too, and that is Google, Inc. (NASDAQ:GOOG).
The next stock, Tesla Motors, Inc. (NASDAQ:TSLA), appears to be running out of gas. Tesla is the brain child of Elon Musk, who was one of the co-founders of PayPal.
This next stock on my radar may surprise you, it's Amazon.com, Inc. (NASDAQ:AMZN). The mighty Amazon appears to be under pressure and the love affair that investors have had with this stock and Jeff Bezos appears to have come to an end.
Another big-name Internet stock that I'm sure you have heard of is Netflix, Inc. (NASDAQ;NFLX), the DVD streaming entertainment company. It would appear that everyone wants to get into the streaming video business now, which in turn is creating more and more competition for this company.
The last stock is Twitter, Inc. (NYSE:TWTR). You may or may not tweet as millions of Americans do every day, but the reality is this company is having a hard time monetizing its millions of users. Unless you can monetize your client base, you're going to have a hard time moving forward.
Traders! Don't miss out on MarketClub's Special Holiday Promotion! Try the tools for 30 days for only $8.95, then take advantage of a Special Holiday Rate for 90 additional days of access (Save 40%!).
Every success with MarketClub,
Adam Hewison
President, INO.com
Co-Creator, MarketClub