Happy Cyber Monday! We thought this was the perfect day to kick off our MarketClub Special Holiday Promotion.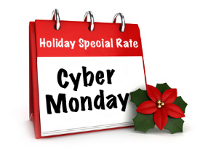 Now is the time take hold of your own financial future. With the right trading tools, it doesn't have to be intimidating or complicated. Treat yourself and your portfolio to a gift that could make your 2015 incredible.
What is MarketClub and how can it help you?
MarketClub is an online advisory service that was designed by INO.com to help you grow your portfolio, protect your profits, and provide you the tools you need to make educated trading decisions.
We'd like you to try all of the trading tools MarketClub offers for 30 days for only $8.95. You'll have unlimited access to our entry and exit signals, scanning tools, portfolio alerts and more.
If you decide to stay after the first 30 days, you'll be renewed at a Special Holiday Rate for 90 additional days of access. This reduced rate saves you 40% off of a regular quarterly subscription.
Find out more about the trial period and Special Holiday Rate. This offer is available to new members only.
If you would prefer speaking to our Customer Service Team, please email or call us at 1-800-538-7424.
Best,
The MarketClub Team
[email protected]
1-800-538-7424