Dear INO.com readers,
January turned out to be a harvest month for decent gain opportunities. This week, let's discuss copper which could lose half its weight this year. Impressive! Let's figure out how.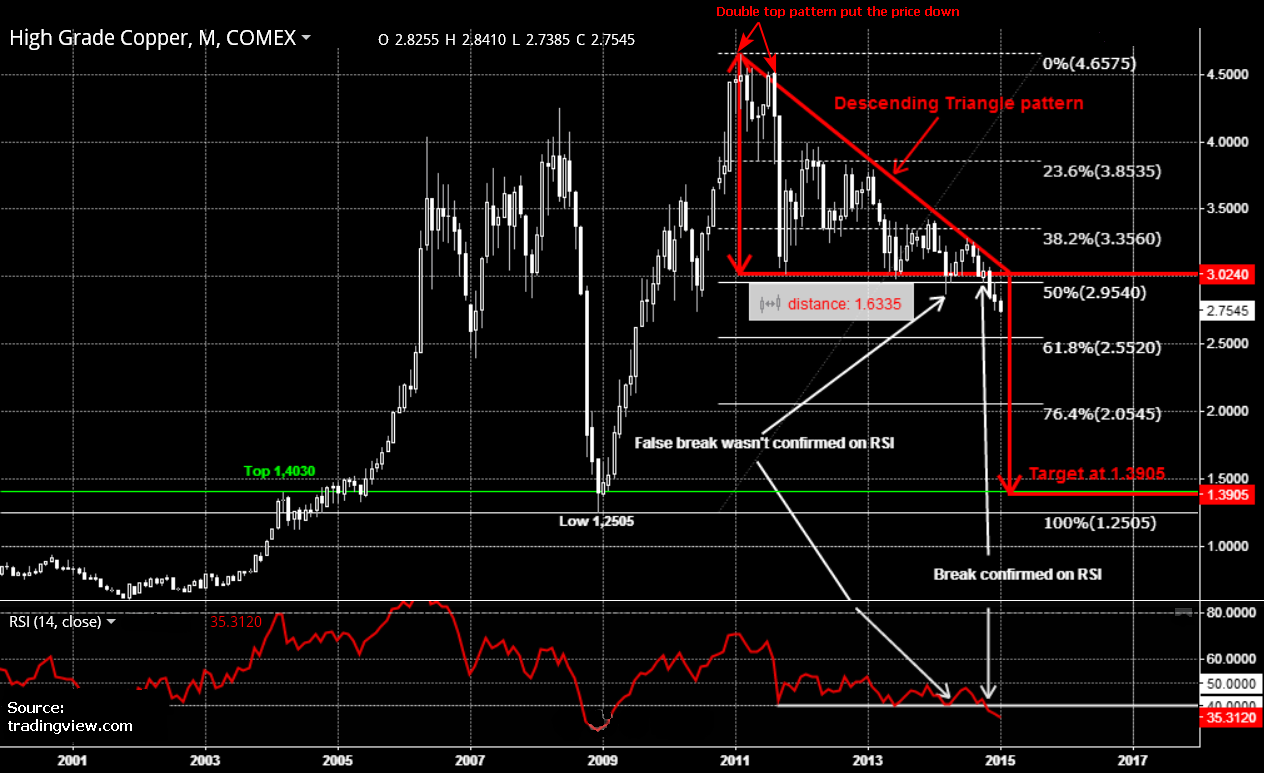 On the chart above, you'll see a monthly candle graph for COMEX high grade copper futures. As you can see, copper isn't phlegmatic at all, see-sawing up and down from below $1, up to almost $5 and again down for the past dozen years. And of course, that's why it is one of the best choices fo speculative traders.
2008 was a disastrous year for copper, free-falling from a $4.26 high to the $1.25 level and losing 70% of its value. Bad news for miners and brilliant for bear traders!
This reddish metal started 2009 as a rocket. Not to overload the graph, I didn't put Elliot waves on the bullish run. Two cycles completed on the way up from $1.25 to $4.55, where the fifth wave stalled with the top done at the $4.65 level at the start of 2011. 2.5 years of total growth thanks to QE. You should have noticed that fall is very short lived compared to unhurried growth, as fear is stronger than greed everywhere in the markets.
In 2011, a double top pattern was shaped and the market crashed down scoring more than $1 just for one month, September was hot! It was a very technical move, the neckline of the double top coincided with a 23.6% Fibonacci retracement level at $3.85. It's clearly seen on the chart that price couldn't break this support on its first try. The second try was successful and triggered the metal's massive sell-off to the $3 level.
Once the market approached the $3 area, buyers were nimble to buyback copper. Former support, where the neckline of the double top and the 23.6% Fibonacci retracement level crossed, now turned to be tough resistance. The market calmed down into consolidation between the 23.6% and 50% Fibonacci retracement levels highlighted in white on the graph.
Price stuck for three years between 2011 and 2014 in consolidation with three reaction lows horizontally touching the $3 level and seven consecutive lower highs. All of this sculpted a descending triangle formation. This pattern is bearish and requires the horizontal support to be penetrated for a further move down. The first attempt in last September failed, but November brought the break-out, even the 50% Fibonacci retracement level located just below the triangle's support at $2.95 couldn't stop the fall. A month ago, copper touched that level on a light pullback and now continues its move down.
The target for the triangle's break-out is located at $1,3905. You can calculate it by subtracting $1.6335 (height of triangle, highlighted in red double arrow) from the horizontal support located at $3.0240 (highlighted in red). It's another $1.364 to fall or almost 50%. If we call the XAU/SEK projected gain of 14% (scored 7% already) or the XAU/EUR potential gain of 18% (scored 1% up to date) to be decent or even impressive, then I can't find the word for a 50% gain in one instrument. Please help me if you know such a word.
Now that the reward is discovered, what is our risk and where are our obstacles? Since the 50% Fibonacci retracement level of $2.95 stopped the recent pullback, then we should square our shorts above that level. To be more conservative, I would put a stop above the $3.03 level, as it will be second resistance. Risk is then 10% and potential gain is 50%, 1:5 – a very conservative risk-reward ratio.
Main supports on the way down are at a 61.8% Fibonacci retracement at $2.55, a 76.4% Fibonacci retracement at $2.05 and a 2004 high at $1.0430, highlighted in green.
By the way. INO's powerful Trade Triangle indicator shows a very bearish score at -90 and it was even two months earlier to predict the fall ahead of the chart pattern described today.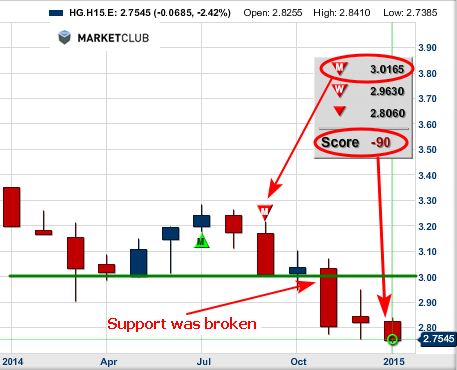 Best wishes and lucky trades!
Aibek Burabayev
INO.com Contributor, Metals
Disclosure: This contributor has no positions in any stocks mentioned in this article. This article is the opinion of the contributor themselves. The above is a matter of opinion provided for general information purposes only and is not intended as investment advice. This contributor is not receiving compensation (other than from INO.com) for their opinion.