Dear INO.com Readers,
Last week I recommended you to be patient and wait until Gold finishes its pullback. The most important thing was to see if the neckline of an Inverse Head And Shoulders pattern and Symmetrical Triangle's upside (highlighted in red) would stay safe. As you can see, Wednesday and Thursday candles couldn't break below the support and this ideal pullback was amazingly precise. Moreover, Thursday's candle appeared to be an Inverted Hammer. An Inverted Hammer is a reverse candle shaped on the troughs of a downtrend when the open and low are at the same level. The market reversed up on Friday confirming what the candle had suggested. On top of this, RSI also kept its support intact adding to the reversal behavior of the price. And the final touch is from possible uptrend development (highlighted in dashed green parallel lines) which now has three consequent bottoms adding to the power of the channel. So, we have an ideal pullback of the price. This is a healthy sign for the bulls, as its easier now to gain enough momentum from RSI's low to soar back above $1300. Now, my patient friends, it is safe to buy gold above the Inverted Hammer's high at $1233, with a target at $1300 (just below recent peak - buy level and target are highlighted in green arrows). And as always ,please don't forget to put your stop below the neckline at $1212 ($3 below support highlighted in red). Risk is 1.7% ($21), reward is 5.4% ($67).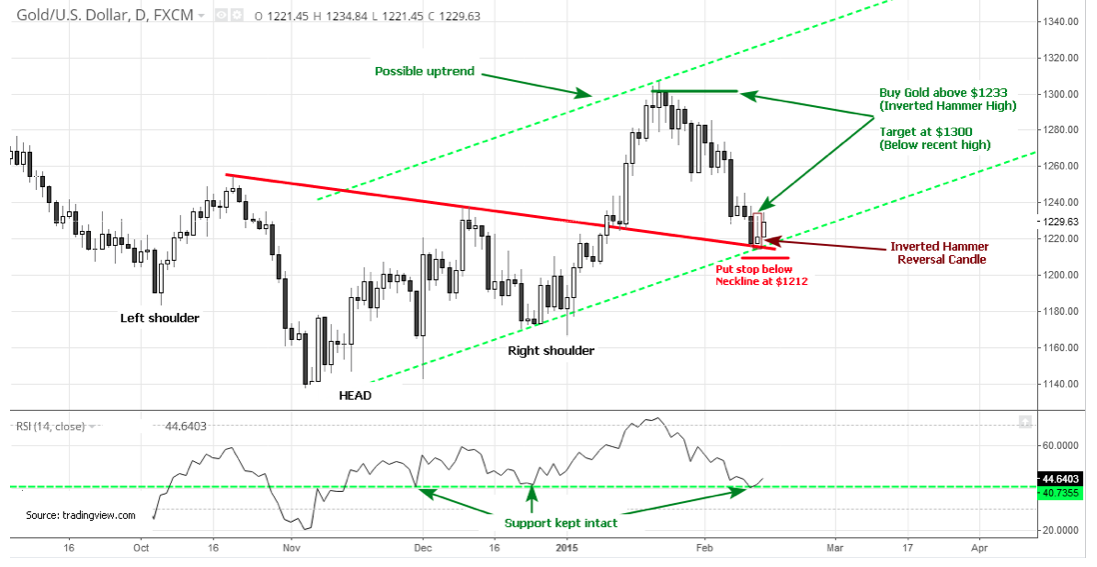 Buyback Short and Stay Neutral on Silver
In my first February post, I suggested selling Silver at $17.18 level, with a target at $13.5 and stop above $18.5. Either side hasn't been reached so far. Two weeks are lost inside of a tiny $1 range, between $16.6 low and $17.7 high. An indecisive market, like any indecisive behavior, is frustrating. We're losing time and money. But, should we suffer? I don't believe that we should. Price is revolving around a Double Bottom neckline (highlighted in brown) located at $17.3 level. It is worth to pay attention to the amplitude of the seesaw motion. The first zigzag occurred in January and had a $3 range. Currently we are seeing a $2 swing. Therefore, I think gap should explode in the coming weeks when pressure will peak.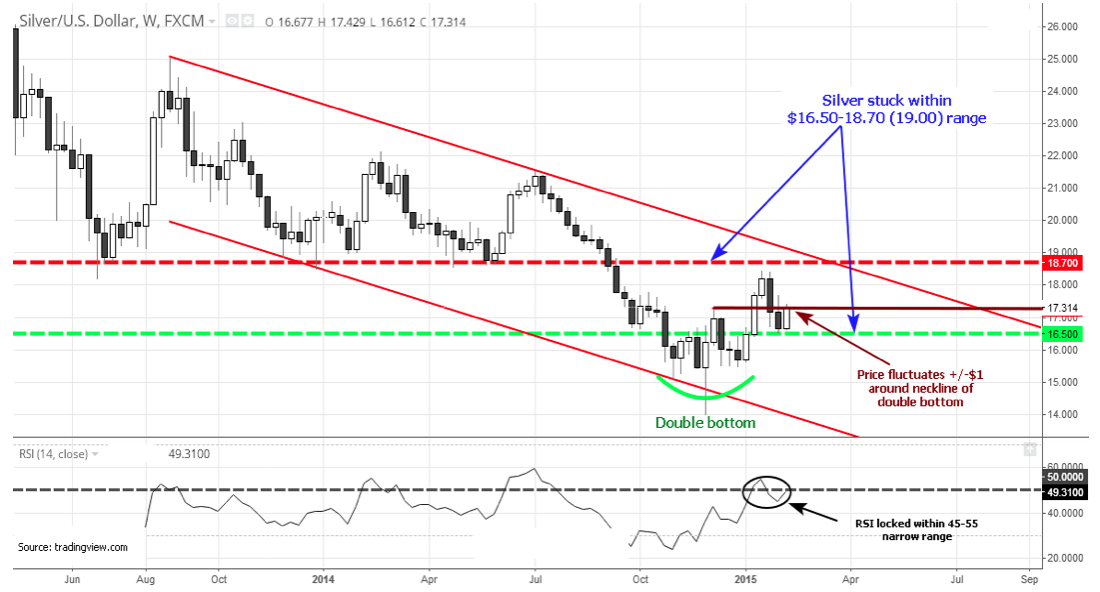 So, for now, I will suggest that you quit Silver with a small loss of 14 cents (entry $17.18 versus current $17.32) and wait until a clearer picture appears on the chart. Please watch the following range bounds: $16.5 on the downside (October 2014 and February 2015 low areas; highlighted in green dashed line) and $18.7-$19 (Descending Triangle's base - highlighted in red dashed line and trendline resistance highlighted in red vertical line).
One can try his luck in range trading, by buying support and selling into resistance. In my experience, trading in a range with no momentum is no fun. I will update you when it's time to put your finger on the trigger.
Special Note for Gold and Silver
I shared two different opinions for two similarly behaving metals. Wonder why?
Although these are both precious metals, they have a special ratio between them which makes their motions different.
In December, I dedicated my post to Gold/Silver ratio with an outstanding "Diamond" chart pattern. The breakout target was at the 109 oz level. It means that Gold is streaming sky high versus Silver. Compared to the current level at 71 oz, it is more than 1.5 fold Gold's price. For instance, let's take today's views: if Gold will reach the short-term target at $1300, but Silver will stay unmoved (it makes $1 move in two weeks) then the ratio will be $1300/$17.3 = 75.14 oz, a modest gain from current 71 oz level. Simple math gives us broader view for this situation and I hope it will stop you from "Gold catch-up" Silver games. I will keep you updated separately on both metals and quite often views can be different.
Lucky and Intelligent Trades!
Aibek Burabayev
INO.com Contributor, Metals
Disclosure: This contributor has no positions in any stocks mentioned in this article. This article is the opinion of the contributor themselves. The above is a matter of opinion provided for general information purposes only and is not intended as investment advice. This contributor is not receiving compensation (other than from INO.com) for their opinion.