Let's start off with Under Armour Inc. (NYSE:UA). This company, located in Baltimore, is making some serious moves into the social media heath-fitness app market. Kevin Plank, who is the founder and chairman, just paid $560 million, an astronomical amount of money or so it would seem for two fitness apps.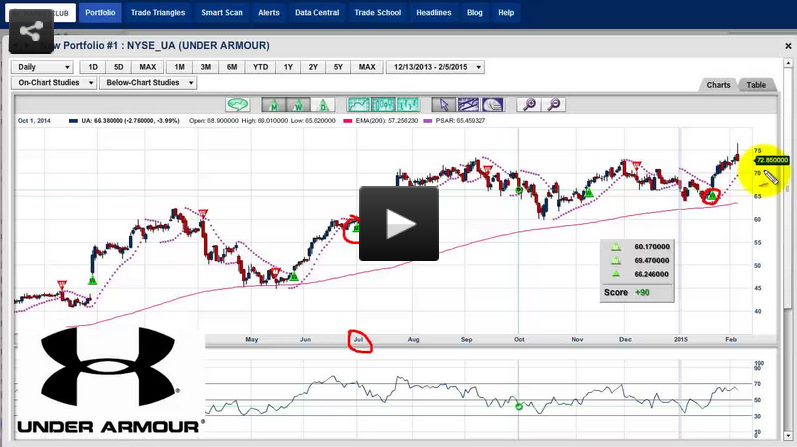 MyFitnessPal has more than 80 million registered users and UA has called it "the leading free resource" for providing calorie-and-workout-related data. UA is paying $475 million to acquire the service.
UA will pay $85 million for Endomondo, a fitness tracking platform that lets users map, record and share workouts through social networks. It has 20 million registered users in Europe.
That gives Under Armour Inc. (NYSE:UA) direct marketing access to 100 million fitness fanatics worldwide.
Did You Exercise Today?
It seems as though the world is becoming addicted to fitness. I know in our company, many of the staff members are running up and down stairs and corridors and tracking their results on one of several wearable technologies. I have to admit, I joined the craze and use a fitness app on my bike to map my miles, heart rate and calories. It's fun, it helps you become a better bicyclist in my case, and helps me keep fit.
If you look around, you can see that wearable technology is in and being used aggressively by not only the millennials, but by people of all ages who want to stay fit.
UA's high-tech strategy, or I should say Kevin Plank's strategy, is to tap into this fitness craze because they all have to buy clothes to run, bike, and exercise. That's the core business at UA, and that's why they want to be into the app market. The apps tie into all of the current wearable technologies like Jawbone, Fitbit, Vivofit and a host of other companies who are all jockeying to be your personal wearable fitness and health technology.
Our local neighbor in Baltimore wants to rule the fitness planet with his clothes and these apps and he might just do it. In today's video, I'll be looking at UA, which has moved up over 40% this year. The chart looks good and with today's news, looks positive. I'll give some indications of how high I think Under Armour Inc. (NYSE:UA) can go in the next few months.
Greece
Make no mistake, Greece is a disaster in the making. It's one of those problems that is swept under the rug and no one wants to face the truth. There's no way Greece will ever be able to pay back the money it owes. I'm still of the opinion that Greece is going to have to exit the euro, which will cause all kinds of problems both for the euro itself and some of the other member countries like France and Spain. German Chancellor, Angela Merkel, does not have a high opinion of Greece or their work ethic. It is getting to the breaking point and it is going to be an interesting time for the global markets.
End Of An Era
The CME just announced that it is bringing an end to pit trading, as the majority of trading is electronic. Pit trading only represents about 1% of all trades executed. Having begun my career in the trading pits of the Chicago Mercantile Exchange, it was a wonderful time and I have great memories of that era. But like time itself, we move forward as a society and embrace technology for better or worse. Thank you to the CME for all the wonderful memories I have of yelling my head off to buy and sell some currency. It was a lot of fun, something that I am eternally grateful for and something I shall never forget.
Please leave your comments and thoughts below this post.
Every success with MarketClub,
Adam Hewison
President, INO.com
Co-Creator, MarketClub