Stocks are trading close to all-time highs and valuations are well above average with a P/E of 19.72 compared to the historic median of 14.57. At first glance, it might seem as if there's no value to be had in this market, but when one asset class thrives, it generally means another is struggling.
Right now, commodities are the unloved asset class by investors. A strong U.S. dollar and booming stock market have driven prices lower as demand favors equities. However, the tide could be on the verge of turning, putting one precious metal in a position to flourish.
A bright outlook for silver prices
For contrarian investors, silver looks like a bargain right now. This chart shows silvers prices at 5-year lows – a good sign for those looking for value opportunities.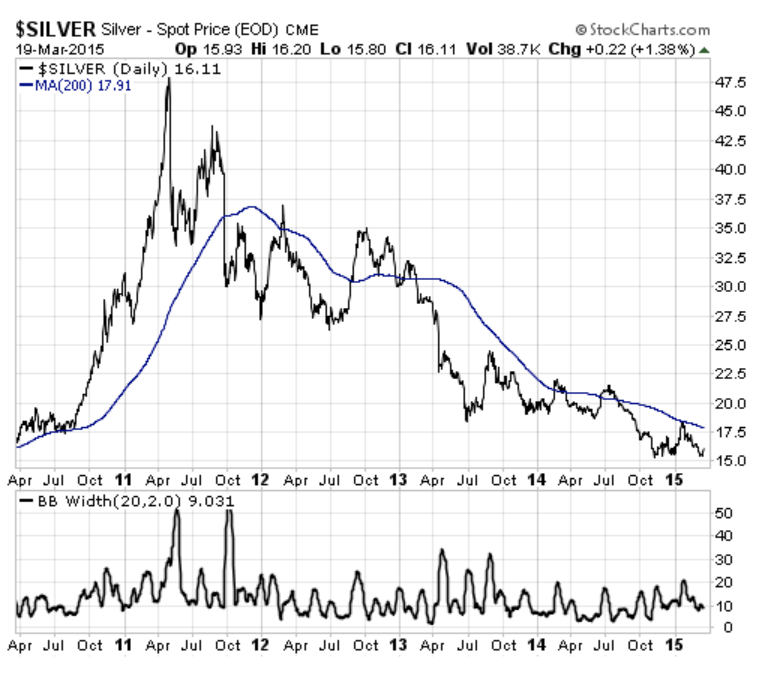 Chart courtesy of StockCharts.com
Now take a look at the signals silver is giving investors right now. It's trading below it's 200-day moving average of $17.91 which is a sign that's it's being undervalued. What's more important though is what the Bollinger Band Width is saying. It tracks volatility and identifies when a potential squeeze might occur. Hovering at around 10, less than its 200-day moving average, it could be a signal that silver is getting ready to rally to the upside.
It's not just the technical signals that are supporting silver's case though, the fundamental's are there as well. According to a report by the Silver Institute, industrial applications for silver will increase demand by 27% by 2018. This usage demand will grow by 142 million ounces in less than 4 years compared to the 164 million ounces demand increased over the past 10. What's more is that the 142 million figure is stemming from industrial demand only, completely excluding investment demand.
On the other side, the supply of silver is actually decreasing. In 2014, total silver supply stood at 868 million ounces and 2015 is projected to decline slightly to 850 million. Since 2010's total supply of1,070 million ounces, the supply of silver has fallen in each consecutive year. Falling supply and increasing global demand translates to higher prices on the horizon for silver.
Hecla Mining Sets The Tone For Silver Miners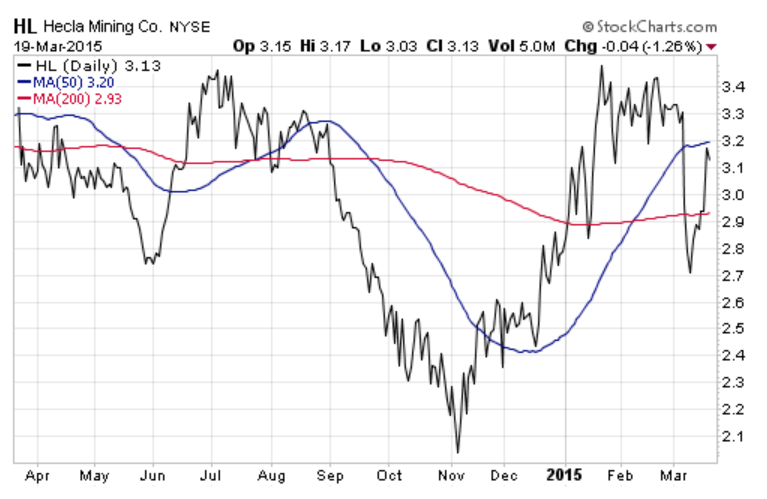 Chart courtesy of StockCharts.com
Silver bugs may want to check out Hecla Mining (HL). The stock is showing bullish momentum as the 50-day crossed over the 200-day back in February suggesting that there is more upside potential than downside.
Hecla is a small-cap $1.2 billion silver miner operates mines in Canada, Mexico, and the United States. The company surprised analysts in its latest earnings report with a beat of $0.02 per share. The expectations were for a flat quarter. For the full 2014 year, Hecla reported adjusted EPS of $0.05 per share compared to last year's net loss of $0.08 per share.
Hecla produced a silver equivalent record 34.5 million ounces for 2014 while gold production grew 26% to 128,266 ounces. Silver reserves also increased 1.9% to 179 million ounces. For 2015, the silver equivalent including base metals production is expected to be 35 million ounces. Total cash costs for silver are estimated to be $6.00 per ounce and $825 per ounce for gold.
Hecla is continuing to expand its mining operations while taking advantage of low silver prices for maximum effect. The company can do this because of its strong balance sheet. Total current liabilities stand at just $90 million while cash holdings are at $209 million.
Management explained their mindset in the 4th quarter earnings report:
"And while metal prices have lowered, we continue to invest capital in our mines, first because we can afford to and second, it's in this period of low prices that you get the most bang for the buck, the best opportunity to increase mine life, production, productivity and reduce operating risk at the lowest cost..."
We have also continued to invest in exploration and development with great results. We grew our silver reserves for the ninth straight year despite using $17.25 per ounce silver which is $2.75 an ounce less than we used last year and about 25% less than the average silver price our peers used last year. And I am sure we are going to be among the lowest this year with our silver price assumptions."
Silver's improving fundamentals make Hecla a screaming bargain stock for value investors. While a strong dollar might be holding a silver rally at bay, any weakness in the currency could be the opportunity this commodity has been waiting or.
Check back to see my next post!
Best,
Daniel Cross
INO.com Contributor - Equities
Disclosure: This contributor does not own any stocks mentioned in this article. This article is the opinion of the contributor themselves. The above is a matter of opinion provided for general information purposes only and is not intended as investment advice. This contributor is not receiving compensation (other than from INO.com) for their opinion.