Today after the market closes, Apple Inc. (NASDAQ:AAPL) reports its Q1 earnings. Expectations are running high as iPhone sales out of China are expected to be big, very big. As you may remember, I wrote a special post on Apple indicating that I thought the stock could move up to the $145 to $155 area.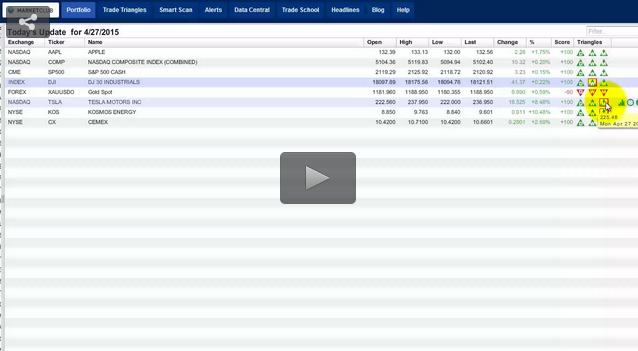 I also highlighted the time window in which I thought the stock could do that. I am looking for an upward swing in Apple lasting between 23 and 28 days. The current upswing began six days ago which would indicate that we have somewhere between 17 and 22 days left on the upside if this same pattern continues. That would make Apple hitting its highs somewhere between May 3rd and May 8th.
One of the things I will be looking for in Apple today is a close over the previous all-time high close of $132.95 on the Februay 23, 2015. Should the market close over that level today, then there's a very good chance we could see Apple reach the target zone.
Last word on Apple, this stock could also act as the catalyst and driver that propels the indices and other tech stocks higher.
In today's video, I will also be looking at the usual suspects along with some new ones for you to enjoy.
As always, I welcome your feedback and questions on any market. Have an outstanding trading day and let's see what Apple has up its sleeve after the close of the market.
Every success with MarketClub,
Adam Hewison
President, INO.com
Co-Creator, MarketClub