Gold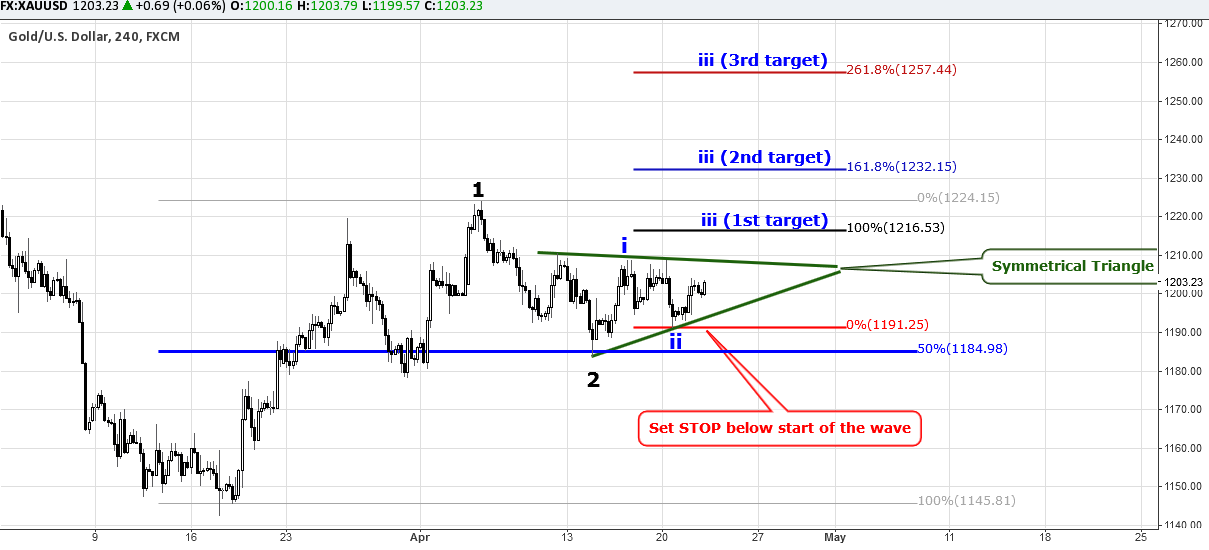 Chart courtesy of Tradingview.com
Last week, the Gold short trade was stopped above $1200. Price immediately broke back above the head and shoulders neckline beyond $1200 and that was it. Stops are a good risk management instrument, they should be set at once and should be tight to protect your capital.
Today I prepared for you a totally new idea with a fresh look. I combined a classic trend model with the Elliott Wave technique and it is shown according to the long-term model posted at the start of this month.
Gold charted a good upside impulse wave 1 (of A) from the March low at $1142 up to the intermediate high at $1224. Then a correction wave 2 emerged and price retraced down to the 50% Fibonacci area at $1184. Usually, the 2nd wave corrects down to 61.8%-99% of the 1st wave, but this time we have had only half of it which means that the market accumulated enough bullish momentum to continue higher.
Wave 3 kicked off from the $1184 low and the two subwaves (i and ii) were already shaped and contained by the symmetrical triangle (highlighted in green). Price is squeezed within the triangle's range at $1194-$1208.
You can benefit by buying Gold into dips to the $1194-$1196 level. We have 3 possible target options: 1) if wave iii becomes equal to wave i, then price could reach $1216, 2) if wave iii becomes 161.8% long of wave i, then price could touch $1232 and the last option is 3) if wave iii lasts 261.8% of wave i, we could see $1257 on the chart.
Put a tight stop $3 below the start of the wave at $1188 and then you will have the following sound risk/reward ratios for target options: 1) 1:3.7 ($1188 vs $1216), 2) 1:6 ($1188 vs $1232) and 3) 1:7.9 ($1188 vs $1257).
Once Gold manages to break above $1205 (local high) without correction to the $1194 area, then enter long. Stop is set the same, but risk proportions will be lower.
Silver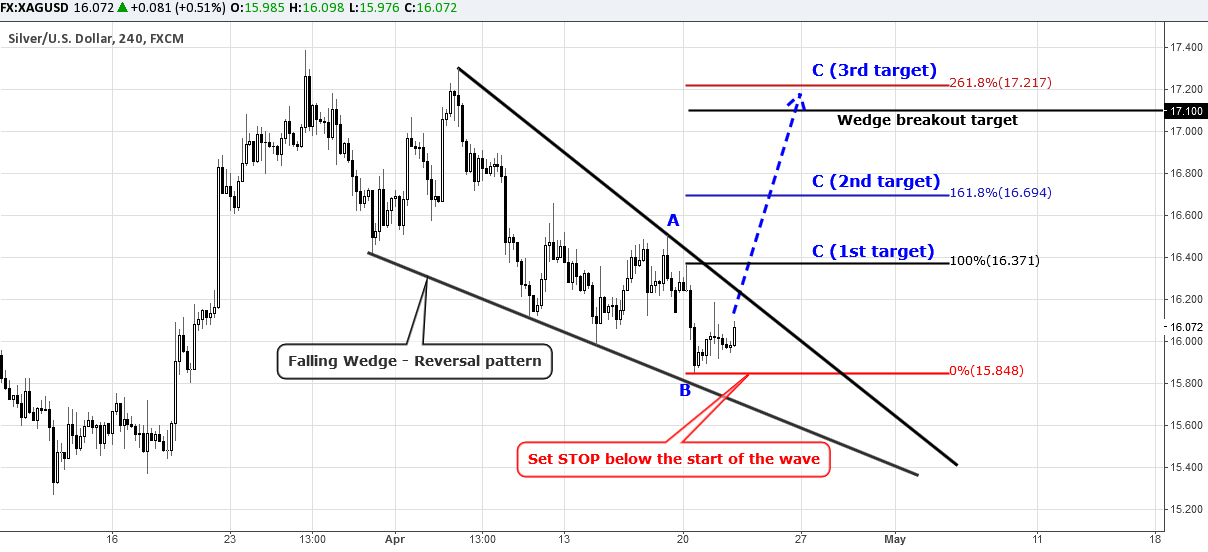 Chart courtesy of Tradingview.com
The short Silver trade was also stopped last week, right at the top of the move (high was $16.51 vs stop above $16.49) when the market tried and failed at the double top neckline after 3 attempts, such things happen but risk management is key and there is no need for regret.
Price charted steep falling highs and less steep falling bottoms and such a model is called the falling wedge reversal pattern, highlighted in black. The market is getting more and more compressed by the wedge sides and soon we should see the break higher, as it is a reversal pattern.
Wave C started on Monday and you have a chance to book some profit entering long positions. Buy at the current level ($16.07) or wait for the sub-subwave correction to the $15.95 area. Like in Gold, we have 3 target options: 1) if wave C becomes equal to wave A, then the price could go to $16.37, 2) if wave C becomes 161.8% long of wave A, then the price could reach $16.69 and the last one is 3) if wave C becomes 261.8% of wave A, we could get $17.27 on the chart. Another option is the pattern's target located at $17.10, it is the height of the widest side of the wedge added to the break point. This gives power to the 3rd target.
Put stop ₵10 below the start of the wave at $15.74, risk/reward ratios are: 1) 1:1 ($15.74 vs $16.37), 2) 1:1.9 ($15.74 vs $16.69); 3) 1:3.6 ($15.74 vs $17.27) and Wedge version is 1:3.1 ($15.74 vs $17.10).
Intelligent trades!
Aibek Burabayev
INO.com Contributor, Metals
Disclosure: This contributor has no positions in any stocks mentioned in this article. This article is the opinion of the contributor themselves. The above is a matter of opinion provided for general information purposes only and is not intended as investment advice. This contributor is not receiving compensation (other than from INO.com) for their opinion.