I found this stock using the Smart Scan technology and wanted to share it with you today. The stock is Apache Corp. (NYSE:APA).
I'm looking at this market on a technical basis as all of Trade Triangles are now positive and showing an upward trend.
As you can see on the chart, I have labeled numbers 1 through 7 so you can better understand exactly what you're looking at.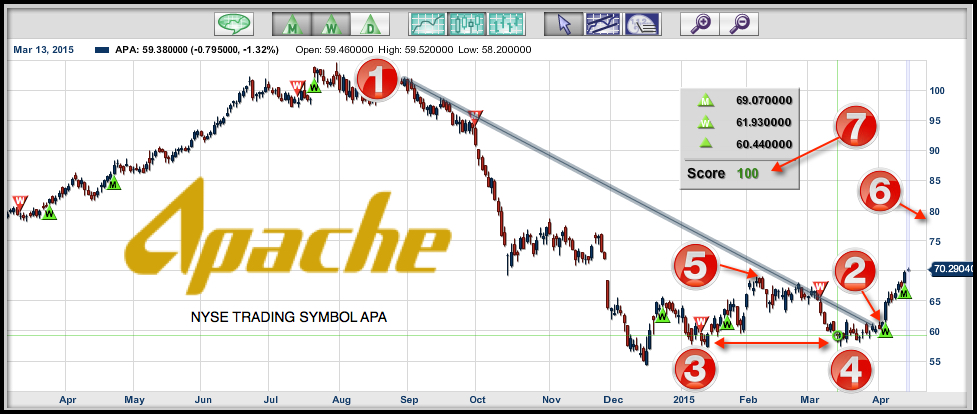 1. The start of the downtrend line that extends all the way from late August 2014 through to April 2015.
2. A breakout to the upside over the downtrend line.
3 & 4. Shows strong support and a double bottom at $58 for this stock.
5. Indicates a pivot point at $69.
6. Upside target zone for this stock is $79-$80 a share.
7. All Trade Triangles are showing positive momentum and trend.
Apache Corporation, an independent energy company, explores, develops, and produces natural gas, crude oil, and natural gas liquids. It operates onshore and offshore assets primarily in the Permian Basin, the Anadarko Basin in western Oklahoma, and the Texas Panhandle, Gulf Coast areas of the United States, as well as in Western Canada. The company also operates assets in Egypt, Australia, and offshore the United Kingdom in the North Sea. As of December 31, 2014, it had total estimated proved reserves of 1,074 million barrels of crude oil, 282 million barrels of natural gas liquids, and 6.2 trillion cubic feet of natural gas. The company was founded in 1954 and is based in Houston, Texas.
It is possible we could see a pullback in this stock from current levels, but I would view that as a buying opportunity. You may want to buy half of what you would normally buy and add the other half of the position on a pullback.
While crude oil has not broken out to the upside, it has been forming a base and is close to breaking out. I find this interesting as the fundamentals are suggesting that there is lots of crude all around, but the market seems to be telling us something different.
If you'd like to leave a comment about this particular stock or anything else on our blog, please feel free to do so.
Every success with MarketClub,
Adam Hewison
President, INO.com
Co-Creator, MarketClub