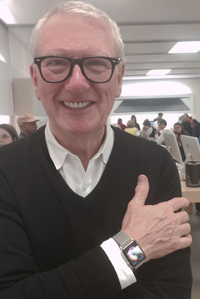 I've always believed that when you're wrong, you should admit it and then move on. I have to admit that I was wrong about the new Apple watch and here's the reason why.
When Apple Inc. (NASDAQ:AAPL) originally announced several months ago it was going to introduce a smart watch, I was pretty excited. It was then that I said to myself "there's so many smart watches on the market, what's going to differentiate their smart watch from a slew of other smart watches?"
In fact, when Tim Cook, the head of Apple, introduced the smart watch several months ago, I found little to get excited about. Up until that time I had been wearing another smart watch from a small startup company named Pebble, that was funded by Kickstarter, the popular crowdfunding website.
At first glance my Pebble watch did everything the Apple watch could do and was less expensive so why should I get an Apple?
So why was I wrong?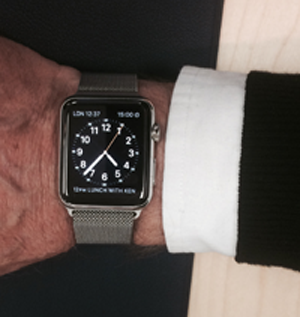 Yesterday, I found I had a little extra time and decided to go and visit the local Apple store. It was late afternoon on a Monday and the store was not that crowded. I entered the store and was immediately greeted by one of Apple's friendly staff. I said, "I'd like to see the new Apple smart watch." The Apple stores are designed beautifully to showcase Apple products and I was led over to the table that contained the entire Apple smart watch collection, including the $17,000 gold Apple watch.
I have to admit, all the watches looked great, but I still wasn't sold on the idea of an Apple smart watch. After looking at the various watch styles under glass, I was asked if I'd like to try one on.
I was then escorted over to another table were I was introduced to an very pleasant young man named Tim who went about showing me the various Apple watches that I wanted to try on. Tim was very knowledgeable about all aspects of the Apple watch.
Now here is where I was wrong about what Apple Inc. (NASDAQ:AAPL) is trying to do with the watch.
Once I put the watch on my wrist, or I should say Tim put the watch on my wrist, I was sold. The Apple watch is not only a marvel of technology but also a fashion statement the way watches used to be many years ago. The watch is a beautifully designed and represents state of the art engineering, without question.
One of the things I've always loved about Apple is the way it will take a technology and make it better. In the case of the Apple watch, is actually upped the game as the new Apple watch becomes a fashion statement in a very fashion and status symbol world. After all, who can see a smart phone in your pocket?
Apple was blessed to have two geniuses behind its operation, Steve Jobs who has since passed on, and Sir Jony Ive, who is the design genius behind Apple. If he were ever to leave the company, it would be a game changer in my mind, he is that good at what he does. I'm also happy to report that Sir Jony got his design degree from my old home town of Newcastle upon Tyne.
I now think Apple has another winner on its hands in the new "fashion" tech wear market. Apple has has reportedly sold a million of these watches worldwide in just a few days. That is probably more smart watches sold than all of the other smart watch makers combined.
Here is my prediction, once you try an Apple watch on, the chances are very high you are going to buy one, which is good news for Apple.
The other good news for Apple is that it just announced an agreement with IBM yesterday, the two companies are going to work and share health data. This is a huge market, as more and more people, especially the millennial and baby boomers, are getting more involved in wanting to be healthy and live longer, myself included.
While I have not changed my mind on the technical aspects of Apple, remember the Trade Triangles gave a buy signal yesterday on this stock, what excites me now is that I can see the vision that Tim Cook and Sir Jony have for the Apple watch. It's fashionable, wearable tech that you need an Apple iPhone to work with - it is the ultimate up-sell.
Yes, I'm going to get a smart watch from Apple and ditch my Pebble watch even though it does a good job. The Apple watch is just so much further ahead in design and works flawlessly with the Apple ecosystem.
The other thing I learned yesterday when I visited the Apple store was that there are 1000 app designers working feverishly on new apps for this watch. Also, there are new third party watch strap manufacturers working on new interchangeable watch straps for the Apple watch. All good news for Apple.
The watch only takes two hours to charge from zero to full charge. If you're like me, I'm sure you charge your smartphone up every day. So the thought of charging a smart watch for two hours and having it run for 18 hours is just a small price to pay for having the convenience of seeing text, email, alerts and lots more on your wrist.
Lastly, I leave you with these two thoughts, health and money. Apple has both of these covered with its health apps, which are only going to get better, and Apple pay, which is Apple's way of electronically paying with your watch or your smartphone if you're on the Apple iPhone 6 and 6+.
Technically, I'm looking for Apple Inc. (NASDAQ:AAPL) to be strong for the next 23 to 28 days and my target remains around the 150 level. I will re-evaluate the situation if all goes according to plan after it gets to first base.
Apple, I am sorry I ever doubted your vision. Now let's get your stock up so we can all smile and help me pay for my smart watch.
Every success with MarketClub,
Adam Hewison
President, INO.com
Co-Creator, MarketClub