Written by: Octafinance.com
Even though we are long-term bullish on gold and silver we are negative medium-term. The Silver chart shows a technical setup with a possible target of a $12 per ounce.
Long-Term Silver Price Chart Still Positive
There is so much to see on the silver chart that we feel obligated to share our interpretations for the future price movement. We will start with the big picture. The whole move of 180%+ from $18 to $50 between 2010 and 2011 had only a minor correction. When the price crossed the upper channel of the long-term chart going back to 2002, it alerted us that silver is out of sync with normal markets.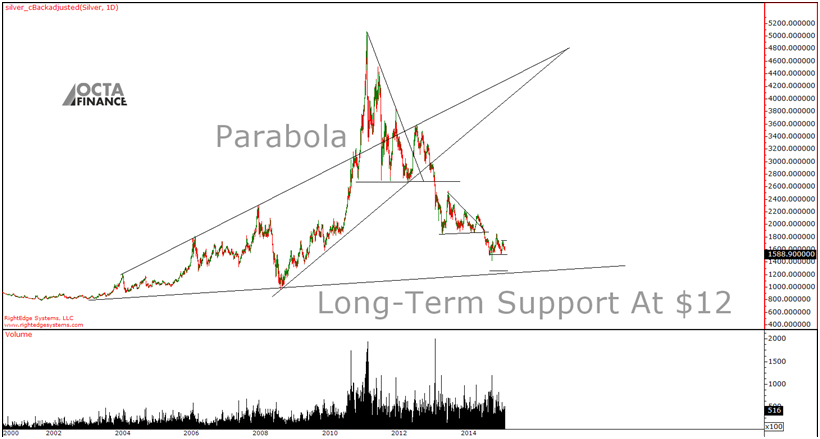 Source: Rightedgesystems + Octafinance Interpretations
Of course as with any parabolic movement, the trend was not sustainable. Silver couldn't break $50 per ounce barrier and sellers' came. The CME also increased the margins which forced all longs to cover (sell), as the sentiment was more than positive "98% of all traders were bullish silver" according to the Daily Sentiment Index (DSI). What happened after that is obvious from the chart, silver experienced a few technical setups that all broke down, reverting the parabolic movement to the upside down. Now based on the long-term support line formed during the last 13 years, we have a support around $11-$12 per ounce.
Is Silver Going to The Long-Term Support At $12?
Currently the silver price has formed a 6 months continuation Head & Shoulders formation. In order for this H&S to be valid, the price should not go above the right shoulder or around $17.5. If the price of silver starts going down to the $15 level, then we might be prepared for a breakout to the downside. Then $12 is a real possibility.
Source: Rightedgesystems + Octafinance Interpretations
Are Hedge Funds As Wrong with Silver as They Were with Oil?
Currently the COT report which is displayed on the chart below shows that producers are still short silver. This is an important indication because we know that producers are the best informed players on the market.
Source: Barchart + CFTC
Hedge funds and small speculators are still long prepared for a silver rise. This all reminds us of the situation with oil just a year ago when producers hedged and shorted oil as much as they could like hedge funds, CTAs and speculators were long. The price then crashed from $110 to $45 per barrel. There is no guarantee that this will play the same, as silver has already gone down 68% from its 2011 high but why shouldn't we see a 76% decline to $12?