Hello everyone, welcome to the beginning of a new trading week and what could be a game-changing week for the markets.
What stood out to me last week was the massive rally on Friday with the jobs numbers that were perceived to be better than expected. If that were not enough over the weekend, we had interest rates cut in China, with stocks over there rallying to the best levels in two weeks.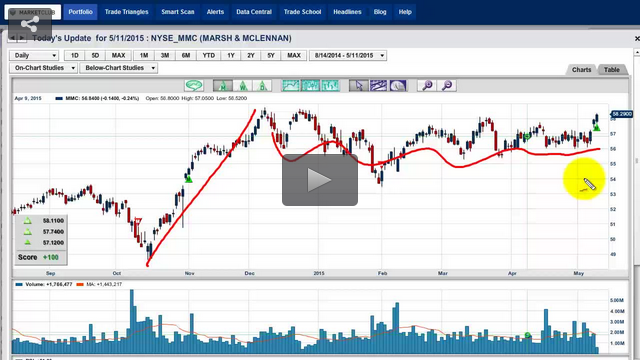 Here are the three reasons why I think stocks have the potential to go higher.
The number one reason is that a lot of people shorted stocks, thinking that the market had put in a top. Now for everyone who recently shorted stocks, they may be forced to buy their shorted stocks back at higher prices to cover their position and exit the market. This has the effect of accelerating and pushing the markets even higher.
The second reason I think the markets can go higher is a technical one. We are very close to breaking to the upside on all the major indices. Here are the levels I'm looking at that will turn the Trade Triangles positive: The Dow is 18,206, the S&P 500 is 2,126 and the NASDAQ is 5,120.
The third and final reason I think we could have a bullish scenario unfolding is the problems with Greece could finally be settled. It is all up to Angela Merkel to bite the bullet and drop Greece out of the eurozone. Everyone knows that Greece cannot pay back what it owes everyone. It's all about swallowing one's pride and moving on.
In today's video, I will be examining all the major indices along with what's going on in crude oil (NYMEX:CL.N15.E), the dollar (NYBOT:DX), and gold (FOREX:XAUUSDO). Time permitting, I will also be looking at some stocks that look pretty interesting right now.
This is going to be an important week and one that could set the tone for the summer months ahead.
For all of you who left comments last week, thank you, I appreciate your feedback. If you have any thoughts about Greece, Angela Merkel or the markets in general, please feel free to leave them below this post.
One of the key things I'm looking for is how the major indices close out the week. If all the major indices close higher and trigger the Trade Triangles for the week, then it is game on. We will just have to be patient until then.
Have a great trading day everyone.
Every success with MarketClub,
Adam Hewison
President, INO.com
Co-Creator, MarketClub