Today, I would like to show you how to create your own private hedge fund for your own account. It's not that difficult and it can make a huge difference to your bottom-line. Let me explain what I mean by that.
What Is A Hedge?
A hedge is an investment position intended to offset potential losses/gains that may be incurred by a companion investment. In simple language, a hedge is used to reduce any substantial losses/gains suffered by an individual or an organization.
A hedge can be constructed from many types of financial instruments, including stocks, exchange-traded funds, insurance, forward contracts, swaps, options, many types of over-the-counter and derivative products, and futures contracts.
Public futures markets were established in the 19th century to allow transparent, standardized, and efficient hedging of agricultural commodity prices; they have since expanded to include futures contracts for hedging the values of energy, precious metals, foreign currency, and interest rate fluctuations.[1]
Source: Wikipedia.org.
For our purposes today I'm going to be looking at hedging stocks. I'm going to give you specific examples of what you can do today. One stock you're going to buy and go long, the other stock you're going sell and go short.
In order to make this work, you need to have the same amount of invested capital in each stock. The two stocks I'm looking at today are traded on the New York Stock Exchange (NYSE). The first stock is ONEOK Inc. (NYSE:OKE), the second stock is Basic Sanitation Co. (NYSE:SBS).
For discussion's sake, let's say you have $10,000 to invest. Divide the money up into two buckets of $5,000 each. You would then look at what price each stock was trading at. OKE is currently trading around $43 a share and SBS is trading around $6 a share. Then divide the value of 1 OKE share (presently at $43) into $5,000. This gives you 116.27 shares that you can buy or short with your $5,000. To make things easier, I would round this down to either 110 or 115 shares.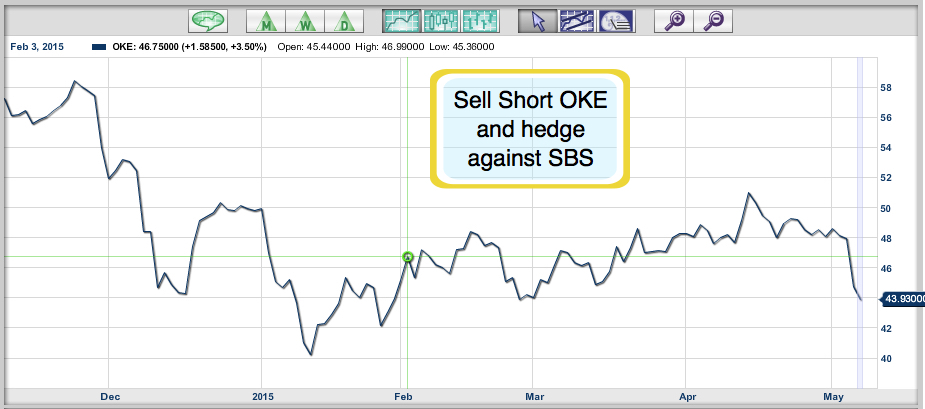 ONEOK, Inc. engages in the gathering, processing, storage, and transportation of natural gas in the United States. It operates in Natural Gas Gathering and Processing, Natural Gas Liquids, and Natural Gas Pipelines segments. The company also gathers, treats, fractionates, stores, and transports natural gas liquids (NGL), as well as owns natural gas liquids gathering and distribution pipelines, natural gas liquids distribution and refined petroleum products pipelines, and terminal and storage facilities; and owns and operates interstate and intrastate regulated natural gas transmission pipelines and natural gas storage facilities, as well as stores and distributes NGL products to petrochemical manufacturers, heating fuel users, ethanol producers, refineries, and propane distributors. In addition, it owns and operates a parking garage in downtown Tulsa, Oklahoma; and leases excess office space to others. ONEOK, Inc. operates as the general partner of ONEOK Partners, L.P. The company was founded in 1906 and is headquartered in Tulsa, Oklahoma.
In the case of SBS, which is trading around $6, you would divide $6 into $5,000 which would allow you to buy or sell 833.33 shares of this stock. I would then round that number down to 830 shares.
SABESP provides basic and environmental sanitation services; and supplies treated water on a wholesale basis to residential, commercial, industrial, and governmental customers in the state of Sao Paulo. The company operates through two segments, Water and Sewage. It provides water supply; sanitary sewage services; urban rainwater management and drainage services; urban cleaning services; solid waste management services; and related activities, including the planning, operation, maintenance, and commercialization of energy. As of December 31, 2014, the company provided water services through 8.2 million water connections to approximately 25.3 million people; and sewage services through 6.7 million sewage connections to approximately 22.4 million people, as well as operated 70,800 kilometers of water pipes and water transmission lines, and 47,992 kilometers of sewer lines. It also offers water and/or sewage services to other municipalities through special purpose companies; and consulting services regarding the rational use of water and financial, commercial, and operational management in Panama, Honduras, and Nicaragua. Companhia de Saneamento Basico do Estado de Sao Paulo SABESP was founded in 1954 and is headquartered in Sao Paulo, Brazil.
Next Step
As all of the Trade Triangles are red, indicating a lower trend for OKE, you would then short 115 shares of that stock.
With SBS, all of the Trade Triangles are green, indicating a bullish trend. You would then simply buy 830 shares of that stock and go long.
This type of hedging is the perfect scenario for what we have in the markets right now which is somewhat of a mixed picture. There are pundits out there who say the markets are going to go much higher while others are indicating that they are going to see a significant correction.
We Don't Care!
With this type of trade, you don't really care which way the market is going, you only care that the stocks that you are long in go higher and the stocks that you are short don't gain ground or go down. You are looking for each stock to go their separate ways and offer protection against unforeseen circumstances.
When To Exit
The key to this type of trading is to remember that you're putting on two opposing positions that are meant to act as one position. So if you see where a market has reached a target zone and wish to take profits you would simply exit out of both positions. The other option is when the Trade Triangles change course and you see a weekly Trade Triangle enter the picture, that would be cause for a exit strategy.
What Can Go Wrong?
With any type of investment, things can change and things can go wrong and you can lose money. However, I believe this type of hedging strategy is extremely conservative and offers the best of both worlds. The key to this approach is to be vigilant and disciplined. If you employ those important elements to all of your trading, you will be successful in any strategy you use in the markets.
Just remember that this type of strategy is not going to yield the kind of returns you would see if you just get into one stock and that stock does extremely well. This strategy is more designed to produce consistent returns as opposed to home runs.
Let me know below if you've ever traded like this or used a similar strategy. I would love to hear from you.
Have a great weekend everyone, see you Monday.
Every success with MarketClub,
Adam Hewison
President, INO.com
Co-Creator, MarketClub