When directors of a company start buying shares, it's a sign to investors that they think the stock is about to go up. That's because they usually have knowledge in excess of Wall Street professionals that isn't ubiquitously known. For investors, it's a sign that the stock could be ready for a break out.
Insider selling could be due to any number of reasons, but insider buying can only be attributed to a positive outlook by management. In the last three months, this stock has seen 35 open market buys for a total of 468,358 shares and in the last six months, there have been 113 buys for 528,361 shares.
A stock that's down, but not out
Terex Corporation (TEX) is a $3 billion farm and construction machinery manufacturer with operations around the globe. The company posted a first quarter loss of $0.02 per share on April 29th – far short of the expected gain of $0.18 per share by analysts covering the stock. Revenues fell 9.6% year-over-year as well. The miss added to the stocks disappointing performance with a total drop of 30% in the past year. However, there are reasons investors should take a second look.
The expectation miss this past quarter was mainly attributed to the unfavorable currency exchange rates caused by the high value of the U.S. dollar. Contributing to the loss was the uncertainty in oil which impacted sales. With the future value of the U.S. dollar in question and the rise of oil prices, Terex could be an undervalued stock with plenty of upside surprises for investors.
The company launched a new product to great demand with the Liftface 5-31 Reach Stacker in Belgium this week. More good news came in the form of decreased cost of goods sold by 7.7% while selling, general and administrative expenses fell 25% year-over-year. Despite the setbacks, Terex reiterated full year guidance for EPS of $2 to $2.30 per share with net sales of $6.2 to $6.6 billion.
A building backlog should help the company grow revenues as well – in the last quarter, backlog orders increased 7%. The biggest positive impact though will be the exchange rate improvement caused by a falling U.S. dollar.
The stock trades at just 13.7 times earnings with a long term EPS growth rate of an astounding 41.5%. That gives it a PEG ratio of only 0.33 – well under the mark for being classified as a undervalued stock. The company bought back 448 million worth of shares in the first quarter out of a $200 million repurchase program approved earlier. It also pays a small dividend in the amount of $0.24 per share – a 0.90% yield. While that might not seem like much, it has a dividend payout ratio of a mere 7% leaving plenty of room to keep paying out and even expand upon later.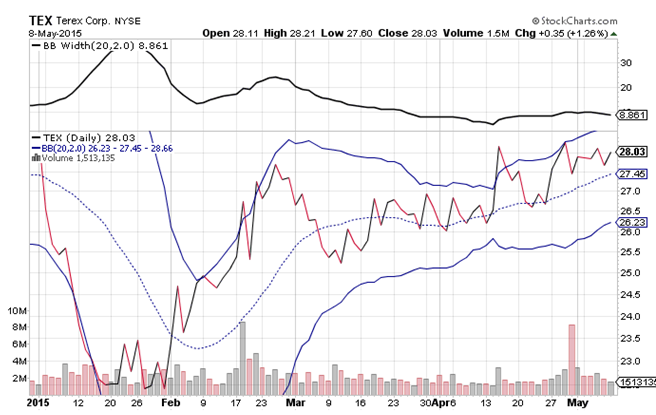 Chart courtesy of StockCharts.com
Take a look at Terex's chart year-to-date. Notice the narrowing bollinger bands last month associated by a subsequent rise in the stock. Investors should pay special attention to the bollinger band width. It's hovering below the critical 10 value mark and could indicate a pop in in the stock price if there's any further fall in trading volatility.
Terex currently trades at a much cheaper price than the sector average. The industrials sector trades at 23.9 times earnings with a long term EPS growth rate of 14.2%. Even if Terex traded at 15 time earnings, not an unreasonable price given its growth rate, the stock should trade at around $30 to $35 per share – a potential gain of 8% to 26%.
With new products being launched and an undervalued stock price relative to its high growth expectations, it's no surprise that company insiders are buying their own stock. Value investors might want to follow suit and buy into this promising stock before it corrects higher.
Check back to see my next post!
Best,
Daniel Cross
INO.com Contributor - Equities
Disclosure: This contributor does not own any stocks mentioned in this article. This article is the opinion of the contributor themselves. The above is a matter of opinion provided for general information purposes only and is not intended as investment advice. This contributor is not receiving compensation (other than from INO.com) for their opinion.