Oil has dominated the headlines for energy markets this year so you might have missed out on the growth building up in alternative energy. Specifically – solar.
Just take a look at the chart for Guggenheim Solar ETF (TAN).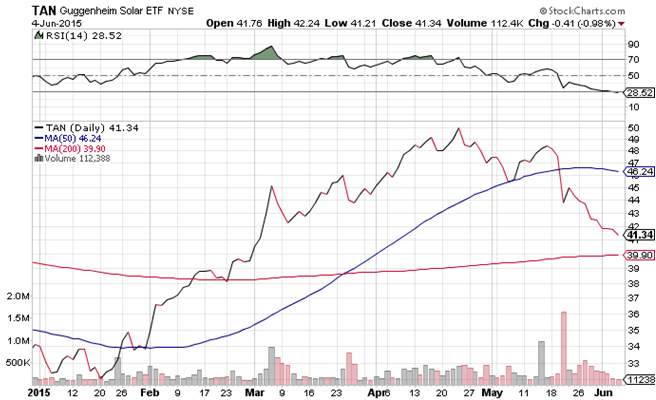 Chart courtesy of StockCharts.com
It's sold off quite a bit from its mid-April highs, but looks severely oversold based on its RSI reading of just 28.52. Still, it's up more than 20% year-to-date and looks like it will reverse course and trend higher from here.
The solar industry may be a volatile market, but it's also the fastest growing sector of new energy capacity for the next year according to a report by Bloomberg. It's expected to grow 30% compared to wind at 12%. According to one source, solar could power over 7.6 million homes by 2016 – a 21 times increase over the 360,000 homes powered by solar in 2009.
Michael Blaha, the principal analyst of North American power at Wood Mackenzie even went so far as to say: "Solar is the new shale. Shale has lowered cost and enabled lower natural gas prices. Solar will lower costs for electricity."
Even energy companies whose primary business is something other than solar are trying to get into the solar space before it's too late. Nuclear energy company NRG Energy recently expanded its solar segment in anticipation of even stronger future growth in the solar industry and many more companies are adding rooftop residential solar energy segments to their overall business plan.
In the U.S, residential solar has been the fastest growing segment in the energy industry. Solar Energy Industries Association (SEIA) reported residential PV installation in 2014 grew 51% year-over-year. Internationally, Japan has made efforts to boost its solar capacity with a plan to reach 100 GW by 2030 while solar growth continues to explode in the Italian, Chinese, and German markets as well.
This solar giant might be down, but it has plenty of breakout potential
The $5.2 billion First Solar (FSLR) is one of the largest and most recognizable names in the solar energy space. Globally, it has more than 10 GW of power installed and operates some of the largest grid-connected photovoltaic power plants in the world.
Like its peers, First Solar's stock has seen some heavy volatility this year driven largely by oil prices, short interest, and analyst disagreements. Year-to-date the stock is up 15% but down nearly 20% over the past 12 months.
The company missed first quarter earnings estimates by a wide margin – a loss of $0.62 per share versus an expected loss of $0.29 per share. RBC Capital downgraded the stock to "underperform" following the miss which caused the stock to shed its previous gains.
However, it looks like all the negative news has already been priced into the stock and the positive ones have been overlooked. Unlike most of its competitors, First Solar carries very little debt. Long term liabilities equal around $200 million while cash holdings stand at about $780 million. It carries a debt-to-equity ratio of just 0.05 – well below the industry average indicating excellent debt management by the company.

Chart courtesy of StockCharts.com
The stock also looks close to being oversold based on its RSI reading of 37.09. Following the downgrade, the stock is now trading at a discount compared to its industry as well making it a high growth stock disguised as a value play.
Based on expected future earnings this year and a fair P/E estimate closer to the industry average of 24, First Solar could be worth around $62 a share. That's a potential profit of about 21% although the stock could face further volatility from energy prices and short interest in the solar industry.
Check back to see my next post!
Best,
Daniel Cross
INO.com Contributor - Equities
Disclosure: This contributor does not own any stocks mentioned in this article. This article is the opinion of the contributor themselves. The above is a matter of opinion provided for general information purposes only and is not intended as investment advice. This contributor is not receiving compensation (other than from INO.com) for their opinion.