Yes, I know it sounds crazy but the reality is the phases of the moon do affect the way we feel. There has been a lot written about how the moon affects people, which in turn would affect the market.
I first learned about this phenomenon in a little-known booklet titled, "The Great Wheat Secret". This tiny booklet was written and I suspect illustrated by a gentleman named Burton H. Pugh some time back in the 30s. In what turned out to be a series of booklets, Mr. Pugh went on to explain how a full moon created optimism and in turn pushed wheat prices to move higher. In his booklets he showed examples of the prices of wheat moving up at the Chicago Board of Trade during a series of moon cycles.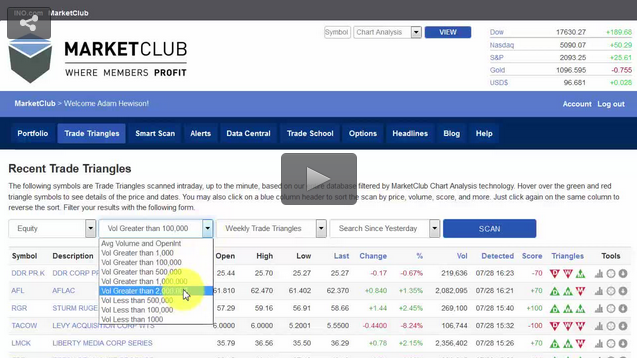 It probably sounds a little crazy to you, but the moon cycles are really no different from market cycles. Many market cycles have been well documented in the marketplace for many years.
That brings us to 2015 which is proving to be a very exacting year for many traders, as the market really hasn't gone anywhere except up and down.
We are very close to seeing a full moon in just a couple of days on the 31st. That should bring some optimism into the general markets. What was also interesting to me was seeing how a new moon was affecting the markets. Here it seemed as though we had a clear cycle that could be tracked and linked to the lunar cycle.
Now I don't want you to get carried away and think Adam's gone crazy, but take a look at the rhythm of the market and these dates.
New moon date(s) and close in the S&P500 that day.
Jan 20th Close 2022.55
Following low, Jan 30th @1994.99 = + 27.56
Feb 18 @ 2099.68
Following low, Mar 11th @2040.42 = + 57.26
Mar 20 @ 2108.10
Following low, Mar 26th @2056.15 = +51.95
April 18 @ 2100.40
Following low, May 6th @2080.15 = + 20.25
May 18 @ 2129.20
Following low, June 9th @2080.15 = + 49.05
June 16 @ 2096.29
Following low, July 27th @2046.68 = + 49.61
July 15 @ 2107.40
Following low, July 27th @2067.64 = + 39.76
With almost 300 points under its belt (295.44 to be exact) and a perfect record, maybe we should all be paying more attention to the New Moon.
Be aware that the next New Moon is on August 14th.
In addition to looking at the major indices, gold, crude oil and the euro, I will also be looking at a couple of stocks I found.
Let us know what you think about lunar cycles and the market. Crazy or not so crazy, I think the results speak for themselves.
Every success with MarketClub,
Adam Hewison
President, INO.com
Co-Creator, MarketClub