Sin stocks are popular with most investors. These are the types of companies that peddle alcohol, cigarettes and gambling to consumers – products and services that appeal to vices. It's popularity is easy to understand though. These companies tend to do well regardless of the economic environment. Whether the economy is expanding or contracting, people will still consume alcohol, smoke cigarettes and gamble.
For long-term investors, these are good stocks to own. They might be subject to short-term volatility, but generally have high free cash flow, operating margins and growth expectations. Alcohol in particular right now has a lot of potential for future growth.
The expanding global middle class – especially in BRIC economies – are becoming more demanding of what they want. Name-brand liquor and beer have proliferated in these countries as consumers have developed disposable income.
In the US, beer is slowly fading into the background as liquor becomes the drink of choice. Over the past five years, beer consumption has declined 4.3% while wine and spirits have grown 9% and 13.3%, respectively.
This company has all the right ingredients for long-term success
Diageo plc (DEO) is a U.K. Based distiller whose product can be found all across the globe. The company is known for its brands like Johnnie Walker, Crown Royal, Captain Morgan, Smirnoff, Guinness and more. With a market cap of $75 billion, Diageo is the largest among its competitors.
July 30th is when the company releases it's FY2015 earnings statement although most analysts expect around $0.91 GBP – around $1.56 U.S. dollars. There's a greater-than-average chance that the company will report an upside surprise however. For the month of June, five different analysts upgraded their buy/sell recommendations – two to "neutral," two to "buy," and one to "outperform."
Diageo's chart tells an interesting story as well.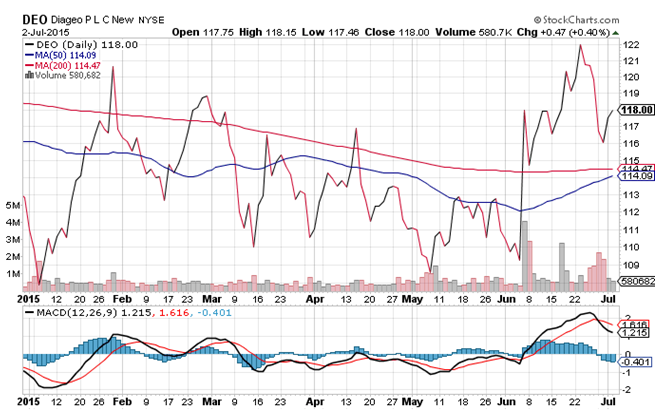 Chart courtesy of StockCharts.com
Notice how the 50-day moving average has suddenly begun closing in on the 200-day moving average? That's a good sign that the stock is building up positive momentum and could be on the verge of a breakout. This trend is reinforced by the extremely positive MACD, which better illustrates the momentum behind Diageo's stock right now.
The stock looks fairly priced from a fundamental perspective. It trades at 24 times earnings where the industry average is 26.8. It has a high operating margin of 28.40% and pays a decent dividend to investors as well – 2.15% right now.
The stock is building up steam primarily on take-over rumors as sales have been disappointing with less-than-expected demand in developed markets. While emerging economies remain a potential source of new growth, 34% of Diageo's net sales stem from the North American market.
Still, the company posted organic growth of 0.9% for the 3rd quarter and its recent acquisitions of companies like United Spirits could pave the way for higher growth over the next year. The private equity firm 3G Capital may be in talks to buy out Diageo as well which is lending credence to the stocks sudden improved performance. If the rumors end up being false, investors should expect to see some short-term volatility but the long-term fundamentals are still strong.
Diageo is an aggressively growing sin stock that's building up for a breakout very soon. Whether it's from a buyout of solid earnings figures, Diageo's stock is set to move higher.
Check back to see my next post!
Best,
Daniel Cross
INO.com Contributor - Equities
Disclosure: This contributor does not own any stocks mentioned in this article. This article is the opinion of the contributor themselves. The above is a matter of opinion provided for general information purposes only and is not intended as investment advice. This contributor is not receiving compensation (other than from INO.com) for their opinion.