"In three words I can sum up everything I've learned about life: it goes on."
How true that quote is! It comes from prize winning Pulitzer poet, Robert Frost.
I think the same can be said about markets and countries: they go on.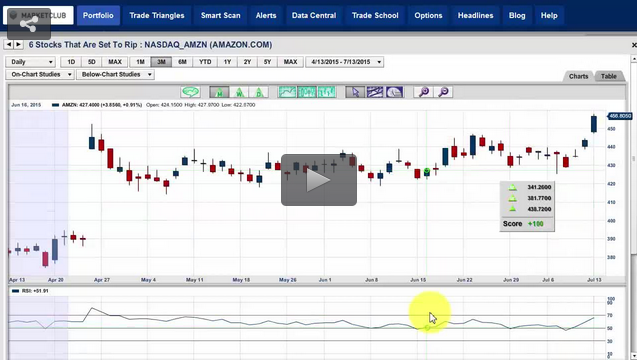 This morning, there is hope that something can be hammered out with Greece before the week is out. I am not sure how many weeks we have been looking for a resolution to this European drama, I've just lost count. It is time for the Greeks to make a deal and for life to go on.
Let's put that all aside today and look at six stocks that I talked about last week. All six of these stocks ended up in the plus column for the week.
Amazon.com Inc. (NASDAQ:AMZN) +1.37%
Starbucks Corp.(NASDAQ:SBUX) +.64%
Facebook Inc. (NASDAQ:FB) +.69%
Under Armour Inc. (NYSE:UA) +1.97%
Netflix.com Inc. (NASDAQ:NFLX) +3.43%
ebay Inc. (NASDAQ:EBAY) +.67%
These six stocks all seem poised to jump and move higher, in my opinion. This is based on the Trade Triangle technology and the fact that last week we witnessed new high weekly closes in Starbucks, Under Armour, and Netflix. Amazon had its highest weekly close since April and Facebook and eBay last week saw their second highest weekly close. These are all positive signs for these stocks.
Thank you for your comments last week, much appreciated! Have a great trading day everyone.
Every success with MarketClub,
Adam Hewison
President, INO.com
Co-Creator, MarketClub