The recent Greek crisis and Chinese stock market crash has injected high volatility back into the financial markets and dragged down the broader averages over the past week or so. Before you hit the panic button and start selling though, this news isn't necessarily a bad thing.
There are two big factors working for savvy investors right now. One is a fundamental tenant of investing – no one ever made money by panicking. A market sell-off means plenty of stocks that might not even be exposed to the events occurring overseas are suddenly much cheaper right now. Value investors know that the pickings are good when everyone else is nervous because there are deals to be found in multiple market sectors.
The other factor is that sudden uncertainty usually translates into good news for gold. This safe haven asset is a tried and true resource for investors who want to place to park their gains while the stock market undergoes a correction.
A strong dollar has prevented gold from moving higher so far this year but with the sudden reversal in the Chinese markets, gold demand may pick back up. Without a strong equity market, investors overseas could start to look at gold again.
For one gold mining company though, the price of the precious metal doesn't need to appreciate for its stock to rise.
A gold miner with the right fundamentals
Newmont Mining Corporation (NEM) is a $12 billion gold mining company with operations across the globe. Thanks to its aggressive cost reduction initiatives and improving ore grade, its stock is up over 19% year-to-date despite gold's sideways trading and an overall fall in the broader indexes.
If we take a closer look at Newmont's chart this year, we can see how its been beating the market average.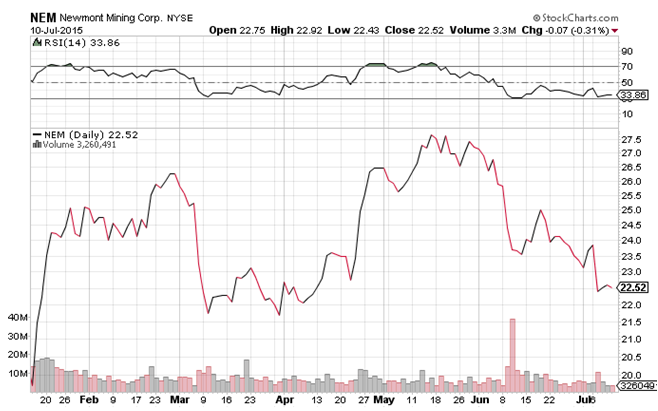 Chart courtesy of StockCharts.com
The stock has tumbled in the past couple of weeks dragged down by massive selling on the backs of the Greek and Chinese crises, but could mean that the stock is undervalued right now. It's in oversold territory based on its RSI reading of 33.86 as well which means this stock is due for an upswing.
Newmont stands out among its peers this year by tracking higher regardless of what the actual price of gold is doing. It's beaten earnings for the past eight quarters in a row with its most recent beat surprising on the upside with earnings of $0.46 per share versus the estimated $0.23 per share – a beat of more than 103%.
A major factor in its success this year has been its massive reduction in production costs. It's been lowering costs for the past three-quarters and is now on of the cheapest gold miners on a cost of production standpoint. All-in sustaining cash costs for Newmont are $849 per ounce which compares favorably with the cost of production in the first quarter of 2014 at $1,034 per ounce. Put another way, Newmont will stay profitable even if gold falls as much as 26% from its current price – an unlikely event even in the worst case scenario.
The company's stock will rise regardless of whether gold does or not, but the delay in the Fed's interest rate hike along with added uncertainty in the financial markets could act as tailwinds for gold which will only boost the company's stock further.
Based on current year earnings estimates, the stock should be valued at around $27 per share. However, considering that the company has built up a track record of beating expectations, the stock could be worth even more as time goes on. At a minimum, this stock looks to be undervalued by at least 20%.
Check back to see my next post!
Best,
Daniel Cross
INO.com Contributor - Equities
Disclosure: This contributor does not own any stocks mentioned in this article. This article is the opinion of the contributor themselves. The above is a matter of opinion provided for general information purposes only and is not intended as investment advice. This contributor is not receiving compensation (other than from INO.com) for their opinion.