Many of the gold bugs cannot understand why gold prices keep falling. One would think with all the strife around the world, the financial crisis in Greece, plus the stress and conflict in the Middle East and various other countries that it would be an ideal time for gold prices to go higher. That, my friend, was the old way of thinking, that is not the way the markets really work.
Let's take a look at what's really happening and the three main reasons for the collapse in the price of gold.
(1) We had seen very strong equity markets around the world which gave an opportunity to investors to make money. Remember, gold pays no interest and in fact, you have to pay money to store gold. So in that sense it's a little like holding insurance for a catastrophic event.
(2) Gold has failed to respond to any of the traditional triggers, such as financial unrest and uncertainty. What this signifies is that the perception of gold, at least for the moment, has changed. In any market, perception is perhaps one of the most important elements for dictating price direction.
(3) The technical picture has been deteriorating for some time. Our last major clue to deteriorating gold prices came over four months ago when a bearish signal in the form of a RED monthly Trade Triangle kicked in at $1,150.84 on March 11th. That signal was quickly followed by a series of weekly Trade Triangles, the latest of which came in on June 4th at $1,184.31. The last RED daily Trade Triangle kicked in on July 7th at $1,163.50. With all of the Trade Triangles negative, it indicates that this market is in a bear trend and most likely headed lower.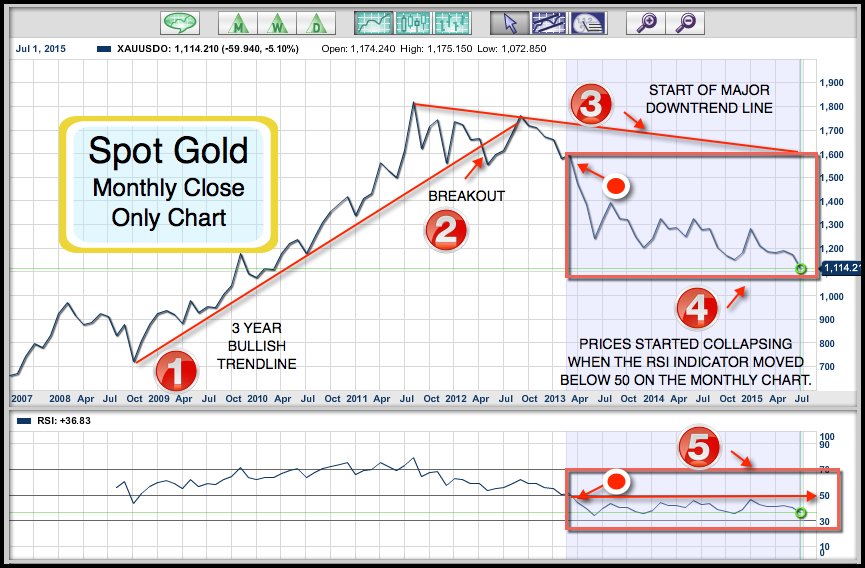 So, how low can the price of gold go? To many gold bugs, the price is probably too low right now, they are probably aghast at today's move. I see no reason to try to pick a bottom in the price of gold.
Like water, gold will find its own level whether that's at $1,000 or $700 or lower is largely dependent on the market itself.
Technically speaking, the $1,000 level will psychologically act as support, as that was the high seen on March 14, 2008 and it also happens to be a round number and markets tend to stop both on the upside and downside at round numbers.
Only time will tell how low gold will go. In the meantime, it looks like we have a pretty exciting week ahead of us with the equity markets and what's going on in gold.
I will be back tomorrow with a video market update, but until then, thank you all for reading and commenting on our blog.
Every success with MarketClub,
Adam Hewison
President, INO.com
Co-Creator, MarketClub