It was less than a week ago that we pinned down the growing possibility that China would move to devalue the Yuan. Then – Bang! Since this morning, it's a done deal. Or is it? While China's move to devalue the Yuan (by roughly 1.9%) in a single day is the most aggressive Yuan devaluation since the "roaring" nineties, chances are this is only the beginning.
China Must Regain its Competitiveness
The core of the matter here is that China is trying to maintain the facade that this was a one-shot deal. However, it really has more to do with the government's attempt to free the Yuan rate. Beijing, it seems, may have finally bowed to the realities of market economics. Even as it enacts reforms to liberalize its financial markets and change its economic model, China must regain its competitiveness when it comes to exports.
The chart below illustrates the Chinese Yuan over the past five years. Even after the 1.9% depreciation it is still up by 7% against the US Dollar. When compared to its peers, the Yuan stands out as the only currency to dramatically appreciate. Against the Dollar, while the Yuan gained 7%, the South Korean Won barely budged, nor did the Taiwan New Dollar. Meanwhile, the Thai Bat depreciated by 11% while the Japanese Yen shed a whopping 47% of its value. Those currencies represent China's fiercest competitors in terms of exports. The Yuan's appreciation against the Dollar, even as its rivals depreciated (and some quite aggressively) emphasizes just how much competitiveness China has lost to Asian rivals. This clearly means that more depreciation of the Yuan is warranted in order to allow China to regain export momentum.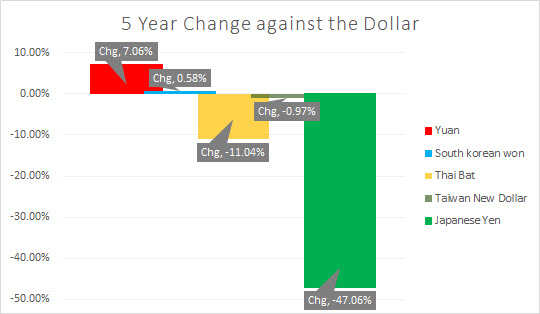 Economic Data Will Set the Pace
When reading through China's statement on the Yuan depreciation, the language and tone brings to mind something akin to a rate cut. In fact, given the importance of exports to China's economy, the Yuan's devaluation is actually far more powerful. China is going about the devaluation process as pure monetary stimulus, thus Beijing will likely wait for more deterioration of its economic indicators before devaluating the Yuan again. But rest assured, as the chart illustrates, China still has a long way to go in order to catch up with its competitors in the region and the world. Though China can't be expected to retrace the remaining 7% of the Yuan's half decade of gains, certainly another 3-4% of Yuan devaluation will be required to finally allow the Chinese Dragon to re-emerge from the abyss.
Look for my post next week.
Best,
Lior Alkalay
INO.com Contributor - Forex
Disclosure: This article is the opinion of the contributor themselves. The above is a matter of opinion provided for general information purposes only and is not intended as investment advice. This contributor is not receiving compensation (other than from INO.com) for their opinion.