Even before the announcement of non farm payrolls, which is one of the most significant data releases of the summer, the markets were on the decline. One of the reasons for that has to be yesterday's market action, all the indices fell from their best levels of the day and closed at or close to the lows.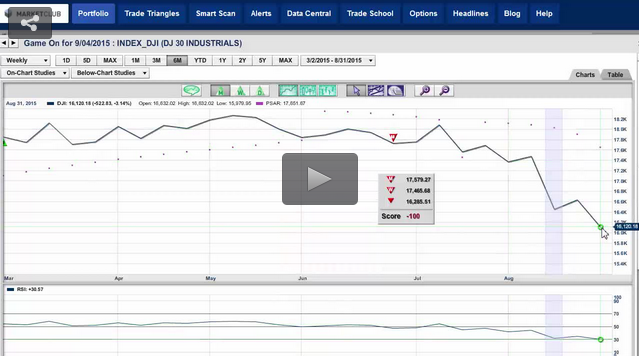 Yesterday's close in both the Dow and the S&P 500 was on target to be the lowest Friday close if nothing happened today. The fact that we are down sharply this morning is a huge negative in my book, but is not one that is surprising.
As we go into the long Labor Day weekend look for the markets to be very thinly traded and volatile. I'm looking for a new low Friday close today. The lowest most recent Friday close was 16,559.75 on the Dow and 1,970.89 on the S&P 500. The NASDAQ was the only index to remain above its lowest Friday close yesterday by just a few points. The level to watch in the NASDAQ is 4,717.16, that level represents the lowest most recent close on a Friday.
I expect the markets to be ugly on the downside as many traders will be leaving early to enjoy the long Labor Day weekend here in the US. I expect any rallies in the markets to be very short lived and running into serious selling pressure.
I see no reason at this time to try to catch a falling knife, the odds are just not in your favor. I want to let the markets settle down and find their own level, which they will do eventually.
I expect that after Labor Day the markets will present some great opportunities as more people get serious about trading and investing after summer vacations come to an end.
This weekend may be a perfect weekend to use the 52-week New Lows on Friday strategy. Here are the three rules you need:
Rule #1: On a new 52-week low when the market closes at or close to its low on a Friday, short and go home short for the weekend.
Rule #2: Exit short position on the opening the following Tuesday.
Rule #3: If the market opens sharply higher on Monday, exit this position immediately.
Remember, the "52-week New Lows on Friday" rules work extremely well in futures and in Forex.
To all our INO.com Traders Blog readers, have a safe and happy Labor Day. We'll be back on Tuesday with an update on all the markets.
Every success with MarketClub,
Adam Hewison
President, INO.com
Co-Creator, MarketClub