That could well be the Fed's dilemma as it wrestles with the problems it sees with its data series. It's Wednesday and no one has a clue as to what the Fed is going to do. More importantly, no one knows what the market is going to do in reaction to what the Fed may or may not do.
So as traders, what should we be doing?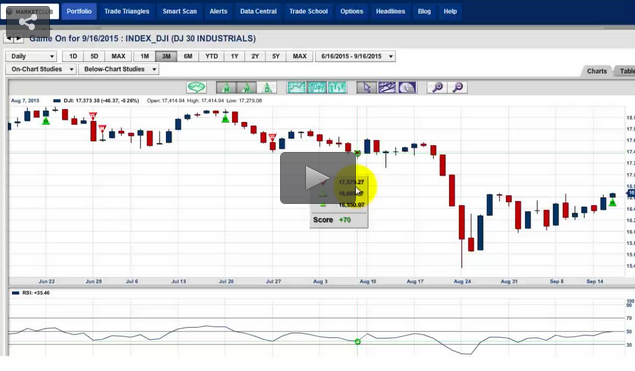 The important thing to remember is that you have many days to trade the markets and put on new positions, you don't have to do it today or just before the Fed's big announcement. No one is saying that you have to trade today.
The move yesterday in the markets was somewhat surprising, but did not change the overall direction of the Dow or the S&P 500. In the case of the NASDAQ, yesterday's move did change things in terms of the Trade Triangles. The NASDAQ is officially on the sidelines based the new weekly green Trade Triangle. In regards to the other two major indices, everything remains the same, you should either be short or out of the market on the Dow and the S&P 500.
Crude Oil
In yesterday's video update I shared with you the pattern that indicated to me that crude oil should be moving higher. That move took place today as crude oil broke over a downtrend line and is set to move higher. I will be updating my projections for this commodity in today's video.
Euro
For the last few days the U.S. dollar has been gaining on the Euro which is now pulling back to an upward sloping support trend line. Another area to watch is the support that should be coming in based on the RSI indicator which now shows the Euro at the 50 support line. I will be looking at this currency with some interest today as it will be affected by what the Fed does or doesn't do tomorrow at 2 o'clock.
Gold
Nobody loves this market at the moment, however that could all change tomorrow with what the Fed has to say about interest rates. With all of the Trade Triangles in a negative mod, I see little reason to get excited about this market. If you are not short the gold market you may just want to stand aside for the moment.
It is going to be a tumultuous week and maybe yesterday was a precursor of things to come. Cyclically we should be having a down week this week, which is still very possible given the swings in these markets.
Last Friday we watched the Dow close at 16,433.09, the S&P 500 close at 1,961.05 and the NASDAQ close at 4,819.79. It is going to be interesting to see where we close this Friday, I would not be surprised to see the market close lower.
Stay strong, stay disciplined.
Every success with MarketClub,
Adam Hewison
President, INO.com
Co-Creator, MarketClub