The markets have been behaving badly over the past several weeks posting gains and losses of more than 100 basis points on several occasions. The indexes have shed about 3% just this week as investors scramble to find a sense of direction amidst a market where volatility reigns supreme. With so much uncertainty in stocks right now, it might be a good time to consider adding a defensive play to your portfolio.
As the economy continues to struggle, we could be headed towards a recession. It's a good time to reevaluate your holdings and think about adding something defensive into the mix. Certain sectors of the stock market tend to outperform when the overall economy contracts and picking up a solid, dividend paying health care stock could deliver the kind of defensive results your portfolio needs.
One way to avoid getting caught up in an economic crisis is to invest in a sector that doesn't have a strong correlation with the major indexes. Drug manufacturers are one of those sectors that continue to produce and develop new products regardless of the state of the economy. Medicine is something that stays in demand making it a great investment when the markets are jittery.
This major drug manufacturer sees a green light ahead
Bristol-Myers Squibb Company (BMY) is a $95 billion drug manufacturer and pharmaceutical conglomerate with a diverse portfolio of medications and constant innovation with 12 new medicines implemented in the past 7 years. The company has a record of consistently beating earnings with it's most recent 2nd quarter upside surprise of $0.53 per share when analysts had been predicting $0.36 per share – 46% higher than expected.
The company's new immuno-oncology drug Opdivo recently received a priority review by the FDA, which helped to boost the stock price in an otherwise unfriendly stock market. Bristol-Myers is focusing more on the promising immuno-oncology drug space as evidenced with its partnership with AbbVie (ABBV) and Rigel Pharmaceuticals Inc. (RIGL) as well as its acquisition of Flexus Biosciences for $1.25 billion.
A look at Bristol-Myer's chart reveals that it could be a value pick-up at these prices.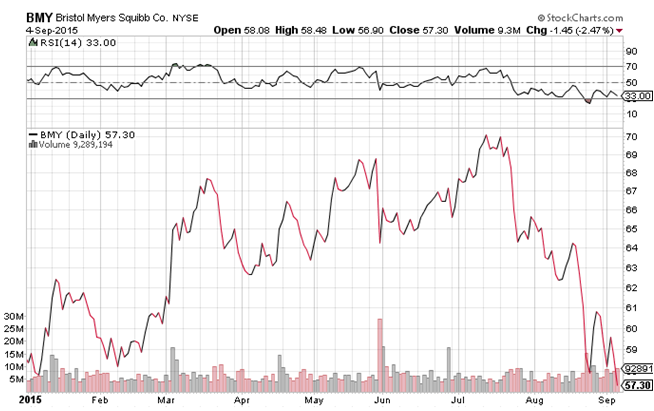 Chart courtesy of StockCharts.com
The stock has fallen sharply off its earlier high in July, but overall the stock is only down roughly 2% year-to-date. It looks to have bottomed and could go much higher. Based on its RSI reading of 33, the stock also looks oversold creating a good entry point for investors right now.
The stock was upgraded by Piper Jaffray in August after initiating coverage only a month earlier while analyst estimates put CAGR for 2015-2019 between 19% and 22%. The company also has a very low debt-to-equity ratio of 0.49 – better than its competitors and a strong ratio to consider if the economy is headed towards a recession.
Gross profit margins are considerably higher than its competitors at more than 80% while revenue growth improved to 7% in the company's most recent earnings report. The stock pays a healthy dividend of 2.5% providing investors with additional downside protection as well.
Analysts price targets range from around $61 to $80 with an average price of $70.50. That gives the stock a potential 18% upside movement and its P/E currently trending in line with industry averages.
While growth is expected for the company, its biggest benefit to investors right now is its defensive capabilities. If the economy does turn south and the market begins selling off again like it did a few weeks ago, this stock will be able to weather the storm and could even move higher during that time frame.
Check back to see my next post!
Best,
Daniel Cross
INO.com Contributor - Equities
Disclosure: This contributor does not own any stocks mentioned in this article. This article is the opinion of the contributor themselves. The above is a matter of opinion provided for general information purposes only and is not intended as investment advice. This contributor is not receiving compensation (other than from INO.com) for their opinion.