As the broader indexes experience higher volatility, new opportunities are available for savvy investors who aren't afraid of taking risks. In a market that's swung up and down by hundreds of basis points on multiple trading days, a stock that's been climbing higher on a relatively consistent basis is worth a second look.
As investors begin to resemble Chicken Little, afraid the sky is falling and the economy is about to reverse course, it helps to take a step back and take a wider view. If we examine the transportation industry – often heralded as a leading economic indicator – those red alarms don't seem to be quite as valid as you might think.
The collapse in oil has been a boon to transportation companies who have been profiting from higher margins with reduced energy costs. Airlines are extremely sensitive to energy prices and this industries record high profits is evidence of strength in a supposedly weak economy. And one airline isn't just benefiting from low oil, it's crushing earnings expectations. With oil prices expected to stay low for the rest of the year, this stock could be headed much higher.
An airline with clear skies ahead
JetBlue Airways Corporation (JBLU) is an $8 billion airline that operates in the US and Latin America as well as multiple Caribbean locations. Constant expansion and reliably high traffic have helped boost this stock up nearly 62% year-to-date. The stock hit a new 52-week high following the company's 2nd quarter earnings results and should continue even higher.
Earnings doubled year-over-year to $0.44 per share thanks largely to the decline in oil prices which makes up the majority of the company's operating expenses. Annual capacity growth is estimated to be around 7% to 9% while 2015's total earnings growth projection now tops 165%.
The stock has been upgraded by 8 different analysts recently with full year earnings now expected to be at $1.86 per share. Long-term earnings growth estimates are strong as well – over 48.5% and well above the industry average of 17%. Net operating cash flow increased year-over-year by 65.29% with average cash flow growth beating the industry average at 15.21%.
JetBlue also carries a lower debt load than its peers with a debt-to-equity ratio of 0.73 and GAAP net profits hit a record high of $1.8 billion in its latest quarterly earnings release. That gives the company plenty of room for expansion and reflects positively on management.
A quick look at JetBlue's chart reveals a strong stock with plenty of upside still to go.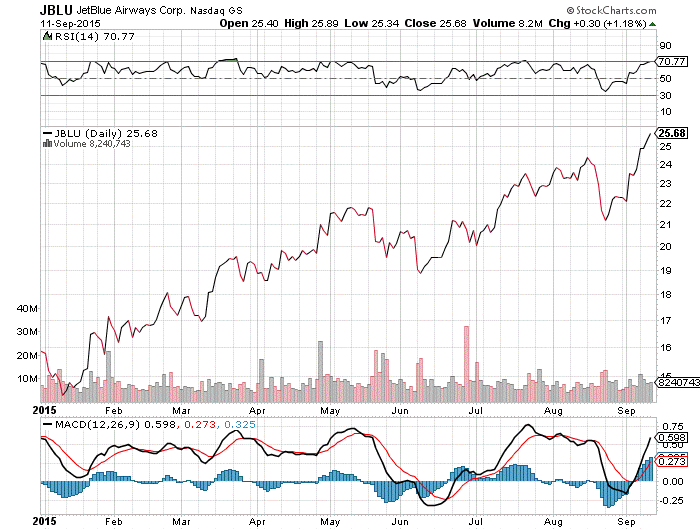 Chart courtesy of StockCharts.com
Notice how it's been steadily increasing all year long – it's been resilient in the face of China's economic contagion as well. The stock has strong upside momentum as evidenced by its MACD although the RSI reading of 70.77 could mean that its overbought as the moment. It may be best to let the stock cool off for a moment before buying in.
The stock trades in line with other airlines but looks undervalued based on its higher earnings growth expectations and improving cash flow. With the revised 2015 earnings estimate of $1.86 per share, this stock could be fairly valued at around $33 – a discount of more than 30% based on its current price.
Check back to see my next post!
Best,
Daniel Cross
INO.com Contributor - Equities
Disclosure: This contributor does not own any stocks mentioned in this article. This article is the opinion of the contributor themselves. The above is a matter of opinion provided for general information purposes only and is not intended as investment advice. This contributor is not receiving compensation (other than from INO.com) for their opinion.