Hello MarketClub members everywhere, no doubt you have seen the sharp rally which started on Friday and continued yesterday. Tuesdays typically are days when you see a reversal and I expect today will be no different from other trend reversal days.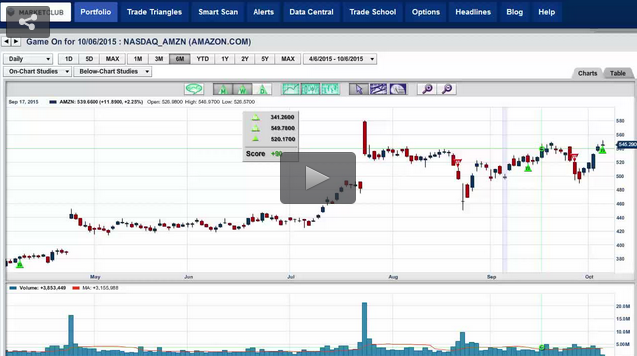 The proximity of major resistance for all three indices indicates that professionals will be selling against those highs. I'm talking about the DOW which has major resistance at 16,993.43, the S&P 500 which has major resistance at 2020.86 and finally the NASDAQ which has resistance at 4960.87. I do not expect those levels to be taken out on this current rally.
The choppy trading action we had been seeing for the past six weeks is a fight between the bullish forces and bearish forces of the market. At times like this, it is best to look at the big picture for the true trend. That picture still indicates to me that the major trend is down for all three indices.
While the trend in the indices is down, it certainly hasn't put a damper on some stocks. For example, yesterday the Trade Triangles triggered a buy signal for Netflix.con (NASDAQ:NFLX) at $107.50. Another key level I'm looking at today is $550 for Amazon.com (NASDAQ:AMZN). Should Amazon trade over those levels today, it would be a clear-cut buy signal for this stock.
The gold (FOREX:XAUUSDO) market gave a buy signal at 1134.75 and has been consolidating for the past three days. I expect to see this market move higher in the weeks ahead. Crude oil (NYMEX:CL.Z15.E) is also shaping up for a potential move to the upside. The key level to watch in this market is the $48 level, a move over that area would signal a continuation of the sharp up move that began in September.
Another stock worth watching today is Starbucks Corp. (NASDAQ:SBUX). Should Starbucks trade over $59.50 today that will be a new all-time high and you could take a long position as all of the Trade Triangles would be green. Starbucks would have the potential of moving up to the $65-$70 range.
Also in today's video, I will be looking at three stocks that I like. They are Intel Corporation (NASDAQ:INTC), Newfield Exploration Co. (NYSE:NFX) and Tyson Foods Inc. (NYSE:TSN). I will go into buying strategies and targets for each of the stocks.
Stay strong, stay disciplined.
Every success with MarketClub,
Adam Hewison
President, INO.com
Co-Creator, MarketClub