There are two months left in the quarter and the Fed continues to dither, and if anything, create uncertainty in the marketplace. I read this morning there's a 52% chance that they will raise interest rates in December. That means there is also a 48% chance that they will not raise interest rates in December. This uncertainty and lack of direction from the Fed is causing anxiety problems for the market.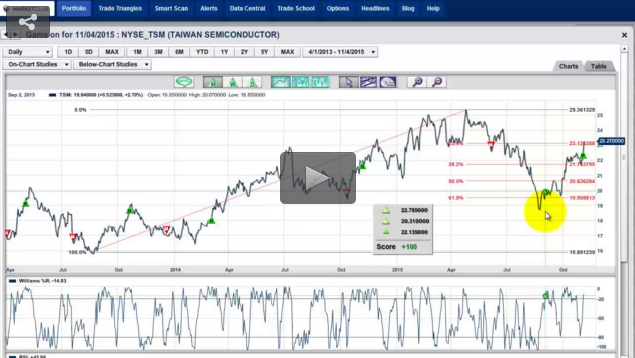 That aside, I do have a stock that I think will do well for the balance of the year. Taiwan Semiconductor Manufacturing Company Limited (NYSE:TSM) had a monthly green Trade Triangle trigger yesterday. The stock has the potential to move up as much as 20% in the next several months. In today's video, I'll show you why I think it can move up 20% from current levels. I will also share with you an important technical aspect that makes me believe that this can happen this quarter or early in Q1 of 2016.
In addition to a positive outlook for Taiwan Semiconductor (TSM), both the Dow and the S&P 500 are looking much healthier having moved into the all green Trade Triangle column.
With interest rates poised to move higher in the U.S., Europe is looking at more quantitative easing (QE) which is putting pressure on the euro. I have been negative on this currency for some time and I'm still looking for it to move down to the 1.08 level.
Crude oil appears to be trapped in a broad trading range with no clear-cut direction at the moment. The odds continue to favor the downside and I expect further weakness in this market. I would use the timing of the daily Trade Triangles to initiate short positions in this market.
The gold market continues to disappoint investors and this recent move has been no exception with both the weekly and daily Trade Triangles sitting on red. It would appear as though gold is going to continue on the defensive in the near-term.
The Walt Disney Company (NYSE:DIS) reports earnings tomorrow after the close and based on the Trade Triangles you should be on the sidelines. What that could mean for Disney is tricky, but it does indicate that the odds of knock-it-out-of-the-park earnings are low.
Every success with MarketClub,
Adam Hewison
President, INO.com
Co-Creator, MarketClub