Introduction
I posited that CVS presented a compelling investment opportunity in the healthcare space. This premise was rooted in the fact that CVS has been highly acquisitive, robust growth rate, growing its dividends over time and has an aggressive share buyback program in place. CVS recently reported robust earnings and continued to drive and position itself for long-term success. With its recent acquisitions and partnerships, specifically the acquisition Target's pharmacies and Omnicare will significantly expand its footprint and ability to dispense prescriptions to the general public and in assisted living and long-term care facilities that serve the senior patient population. As the United States continues to absorb an ageing population alongside growing overall healthcare costs, more specifically prescription drug costs, CVS looks poised to benefit and continue to outperform the broader market. The most recent earnings report underscores this premise and CVS continues to deliver continued growth and positioning for long-term success.
2015 Q3 Earnings
Recently, CVS reported strong earnings for the quarter ending September 30th, 2015. Net revenue increased more than 10% to $36.8 billion while adjusted EPS increased to $1.28 or 11.5% as compared to the prior year quarter. In addition to these impressive numbers, CVS increased the low end of their guidance from full-year EPS of $5.14 to $5.18 and fourth quarter EPS from $1.51 to $1.55. CVS also offered 2016 guidance of robust EPS growth of 10% to 14% or $5.68 to $5.88. At current levels (~$95), CVS boasts a P/E of 21.3 and given its growth rate, acquisitions, partnerships, aggressive stock repurchase program and dividends I believe this company is undervalued.
CVS Health – A true healthcare company
Approximately one year ago, CVS announced that it had removed all tobacco products from its stores nationwide and would no longer sell any tobacco related products to its customers. This was a bold move as CVS has become the trailblazer in establishing itself as a true health oriented company. Ceasing tobacco sales negatively impacted overall sales however this move established itself as a true healthcare focused company. Personally, I like companies that stand behind their name and practice what they advocate and in this case it's promoting overall health and well being.
CVS driving growth via acquisitions and partnerships
CVS acquired Omnicare for $13 billion earlier this year and just recently acquired all of Target's pharmacies for $1.9 billion. These two acquisitions, once fully integrated will boost both top and bottom line revenue while geographically expanding its footprint across the US particularly in the Pacific Northwest via the Target acquisition where CVS has limited operations. Omnicare is a Fortune 500 company and with the acquisition will significantly expand its ability to dispense prescriptions in assisted living and long term care facilities that serve the senior patient population. CVS Health will also expand its presence in the rapidly growing specialty pharmacy business. In terms of specialty pharmacy, this business increased 31% in 2014 and is expected to grow to 44% of total drug spending by 2017. Omnicare's complementary specialty pharmacy platform and clinical expertise will augment CVS Health's capabilities and enable CVS Health to continue to provide innovative and cost-effective solutions to patients. CVS Health expects to achieve significant purchasing and revenue synergies as well as operating efficiencies from this combination.
CVS Health also acquired Target's more than 1,660 pharmacies across 47 states and will operate them through a store‐within‐a‐store format, branded as CVS/pharmacy. It's also important to point that a CVS/pharmacy will be included in all new Target stores that offer pharmacy services. Thus as Target continues to expand, CVS will continue to expand its pharmacies in lock-step. Target's nearly 80 clinic locations will be rebranded as MinuteClinic, and CVS Health will open up to 20 new clinics in Target stores. The new clinics will be part of CVS/MinuteClinic's plan to operate 1,500 clinics by 2017. In addition, CVS Health and Target plan to develop five to ten small, flexible format stores over a two‐year period following the deal close, which will each be branded as TargetExpress and include a CVS/pharmacy.
CVS has also partnered with three telehealth companies – American Well, Doctor On Demand and Teladoc to explore how direct-to-consumer telehealth providers, retail pharmacy and retail clinic providers can collaborate to improve patient care. Taken together, CVS is growing its business organically and via strategic acquisitions and partnerships to drive shareholder value and growth now and into the future.
Growing healthcare and prescription drug forecasts as a catalyst for CVS
According to the Centers for Medical and Medicaid Services, medical expenditures are projected to grow at an average rate of 5.8% per year through 2024. This translates into 1.1% faster than GDP throughout this time period. The healthcare expenditures as a percentage of GDP are expected to rise from 17.4% in 2013 to 19.6% by 2024. Healthcare spending is projected to have grown 5.5% in 2014, significantly outpacing economic growth. The greater spending on overall healthcare is mainly attributable to the Affordable Care Act (ACA) health insurance coverage and rapid growth in prescription drug spending. As a result of ACA, the domestically insured is projected to have increased from 86% in 2013 to 89% in 2014 as 8.4 million individuals are projected to have gained coverage. Post 2014, national health spending is projected to grow at a 5.3% clip in 2015 and peak at 6.3% in 2020.
Given these projections, this scenario bodes well for the overall healthcare sector as more individuals have access to health coverage and prescription drugs. Specifically regarding CVS and prescription drug expenditures, this area is projected to have grown 12.6 percent in 2014 to $305.1 billion. Driving this growth were new specialty drugs and increased prescription drug use among people who were newly insured. Prescription drug spending growth is projected to average 6.3% annual growth from 2015 through 2024. Taken together, as the biotechnology sector continues its innovation and continuous supply of medications to treat and cure many different diseases coupled with the growth in overall medical spending may present an investment opportunity for companies that provide prescription drugs and pharmacy benefits.
Growing revenues augmented by dividends and share buybacks
CVS has grown its revenues greater than 45% from 2010 through 2014, growing revenues from $95.8 billion in 2010 to $139.4 billion in 2014. From 2013 to 2014, revenue grew at a 9.9% clip while operating profit grew at a 9.5% clip (Figure 1). Through the first nine months of this year, revenue has grown at 10.3% compared to the first nine months of 2014 (Figure 2).

Figure 1 – Financials covering 2010 through 2014

Figure 2 – Financials covering the first half of 2015 compared to the first half of 2014
In addition to growing revenues and profits, CVS offers a backdrop of dividend payouts along with a share repurchase program. CVS has increased its quarterly dividend payout by nearly 800% over the past 10 years from $0.04 to $0.35 per quarter. This translates into a 1.4% yield based on its current price (Figure 3).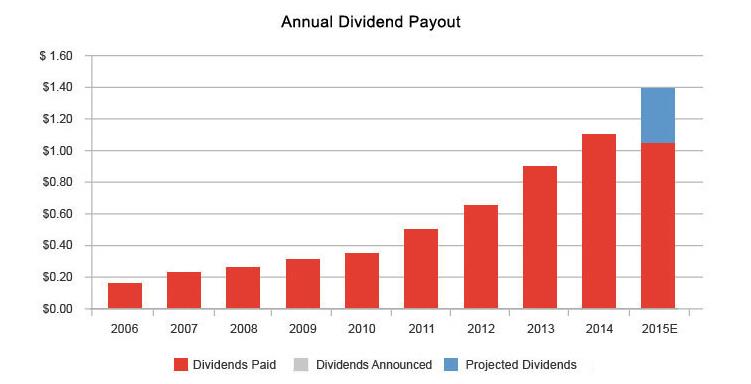 Figure 3 – Dividend History of CVS from 2006 through 2015
Due to the Target pharmacies purchase, CVS Health is reducing its share repurchase guidance for 2015 by $1 billion, from $6 billion to $5 billion. Despite the decrease, the $5 billion earmarked for share repurchases still accounts of more than 4% of outstanding shares. This still remains an aggressive buyback program and along with its dividend shareholders are doubly rewarded.
Stock Performance
Over the past 5 years, CVS has outperformed the Dow Jones by 150% on cumulative basis this greater than 3-fold outperformance is depicted below (Figure 4). Considering all the future catalysts for CVS moving into the future, I strongly feel that the stock will continue to outperform the broader market by a wide margin.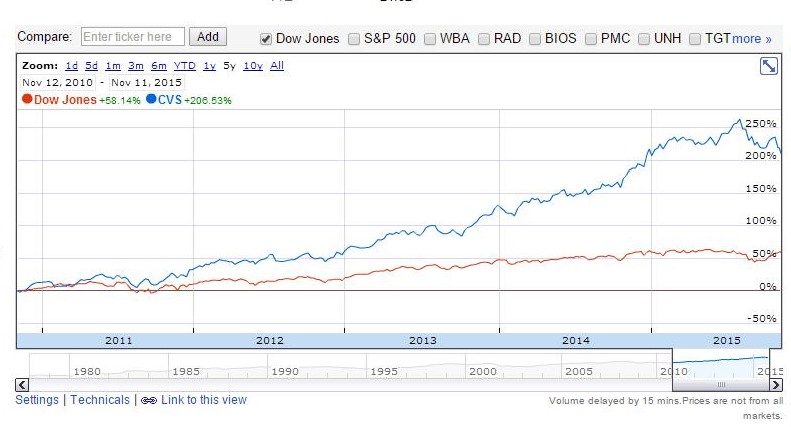 Figure 4 – Google Finance performance between CVS and the Dow Jones over the previous 5-year time period
Summary
CVS is well-positioned for future growth and success in the growing healthcare space as further supported by its current quarterly earnings report. CVS has been highly acquisitive, growing dividends over time and buying back its shares to drive shareholder value. Its major acquisitions and partnerships via Omnicare, Target pharmacies and Telehealth companies position CVS to continue its strong performance and competitiveness in the marketplace. The company does not shy away from deploying capital to acquire other assets to drive growth into the future. In addition to their acquisitive mindset, CVS also offers the backdrop of dividends and share repurchases to add value to shareholders. CVS appears to be undervalued based on its growth and future earnings as measured by its P/E and PEG ratios.
Noah Kiedrowski
INO.com Contributor - Biotech
Disclosure: The author currently holds shares of CVS and the author is long CVS. The author has no business relationship with any companies mentioned in this article. He is not a professional financial advisor or tax professional. This article reflects his own opinions. This article is not intended to be a recommendation to buy or sell any stock or ETF mentioned. Kiedrowski is an individual investor who analyzes investment strategies and disseminates analyses. Kiedrowski encourages all investors to conduct their own research and due diligence prior to investing. Please feel free to comment and provide feedback, the author values all responses.