October proved to be a spectacular month for stocks with the best gains seen since the third quarter of 2011. Historically, the last quarter proves to be a good one for stocks. That is not a guarantee that stocks will go higher, but historically since 1949, stocks have averaged a gain of 4% in Q4. That is followed by a strong Q1 with the average gain of 2%. History is all well and good, but it doesn't necessarily repeat itself in a very systematic fashion every single year.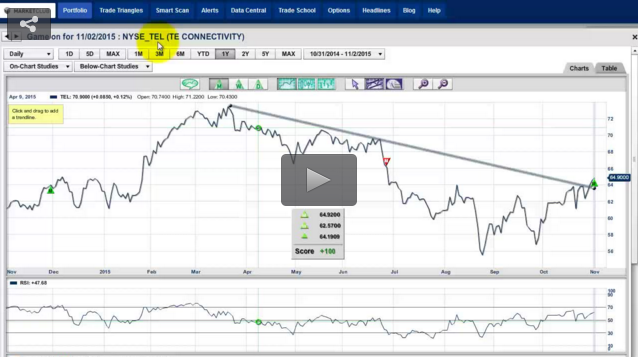 Here's the stock that I think can do very well in Q4. The stock is TE Connectivity Ltd. (NYSE:TEL). Presently this stock is trading around the $64.90 area and I believe it can move substantially higher in Q4.
Here are the reasons why I think that:
1. We received a monthly Trade Triangle trend change and buy signal today.
2. This stock is reversing the downward trend that is been in place since June 26, 2015. Today's buy signal came in at $64.92.
3. TE Connectivity Ltd. (NYSE:TEL) has just completed a major "Head and Shoulders" bottom which is capable of carrying the stock up to the $72.00 level. This would take the stock back to the highs seen in March of this year. A "Head and Shoulders" formation is one of the most reliable technical formations I know of.
Also in today's video, I will take a look at gold, crude oil and the major indices.
If you haven't left a question or comment on the blog recently, today's the day to do so. I appreciate all of your questions and we are here to help you succeed.
Stay focused and disciplined.
Every success with MarketClub,
Adam Hewison
President, INO.com
Co-Creator, MarketClub