This little stock popped up on my radar yesterday with the help of the Trade Triangle technology. Whole Foods Market, Inc. (NASDAQ:WFM) is one of my favorite stores and I shop there every week.
Whole Foods has been in a sustained downtrend for the last nine months, but it appears as though the downtrend is over and Whole Foods is set for some healthy gains in 2016. I think it has the potential to double your money in 2016. Given the upside potential for Whole Foods, I feel that the risk factor is not that big.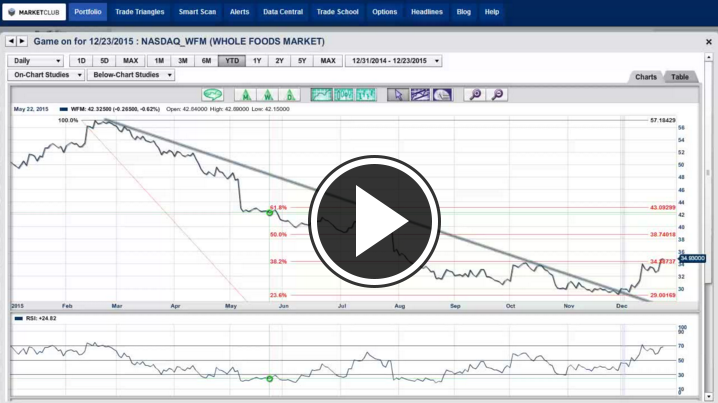 As you well know, there are no guarantees in investing and risk is a factor, but in this case, the risk-reward ratio is in your favor.
I will be taking an in-depth look at Whole Foods Market, Inc. (NASDAQ:WFM) today along with the other key markets to see how these markets have fared in 2015, which is rapidly coming to a close.
I hope that you have gained valuable insights to the markets with the "12 Days of Trading Tips" and found some nugget of information that will help make 2016 your best year ever.
Our mission here at MarketClub is not only to educate you, but also help you succeed using market-proven tools and successful formulas that have worked reliably over the years. When we hear back from you and you share your successes with fellow members, we consider that a win for everyone.
For all of you who contributed to our blog in 2015 with questions and comments, thank you.
Have a safe and happy holiday season and a Merry Christmas.
Stay strong, stay focused and stay disciplined, 2016 is going to present many profitable trading opportunities.
Every success with MarketClub,
Adam Hewison
President, INO.com
Co-Creator, MarketClub