Hello MarketClub members everywhere! As we start this trading week, I feel we are at a potential crossroads of some major changes in the markets. As you may remember, 2015 has been a no-go year for stocks and it would appear as though we have built a very large top in the equity markets for the time being.
Just as stocks have gone nowhere in 2015, gold appears to be building a base and ending its 4-year bear run. I am going to be watching that market very closely this week and in the near future. If gold moves over the $1,088.55 level this week, buy and hold it until the next weekly Trade Triangle signal.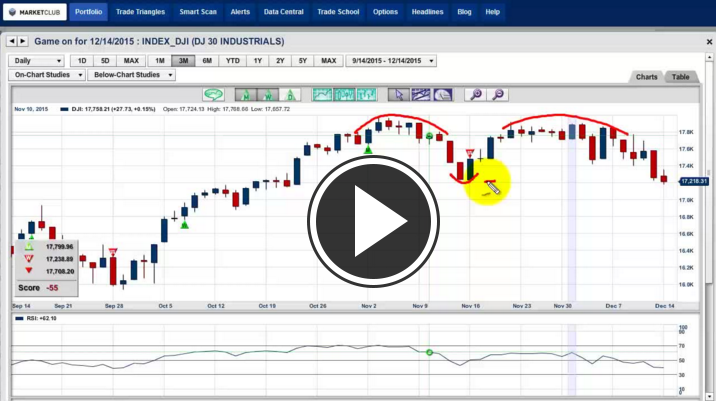 So, what do I mean by the big rotation? I think we are going to see people move out of stocks in 2016 and transition more into assets like gold and secured short term interest bearing instruments.
As we are now halfway through December, I fully expect the markets to become even more liquid and choppy. I mentioned in my very first post in December that this is going to be a choppy, volatile month and so far that has proven to be pretty accurate.
Here are some of the things I see right now in the markets and some levels you should be watching for:
Amazon.com Inc. (NASDAQ:AMZN) Weekly reversal on a move below $639.63.
Netflix.com Inc. (NASDAQ:NFLX) Weekly reversal on a move below $118.60.
Apple Inc. (NASDAQ:APPL) Stay on the sidelines.
Facebook Inc. (NASDAQ:FB) Stay on the sidelines.
Under Armour Inc. (NYSE:UA), Major trend down.
The Walt Disney Company (NYSE:DIS) Major trend down.
I highly recommend you take a look at our Trade Triangle and SmartScan technology and see how your favorite stocks are faring. It could save you a ton of money in 2016.
I certainly hope you are enjoying our "12 Days of Trading Tips". These trading tips are fundamentally important to your success in the markets. I highly recommend that you find some time over the holidays to go through each of them. It can only be to your benefit and help you in 2016.
Stay focused and disciplined.
Every success with MarketClub,
Adam Hewison
President, INO.com
Co-Creator, MarketClub