Practice Makes Perfect: After you've studied and developed a plan it's time to practice.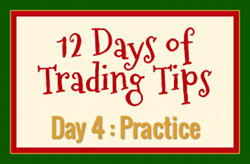 Paper trading is a tool for new and old traders alike, much like an athlete practicing their trade is crucial to their success. Practicing allows you to learn and tweak your trading strategy without losing real money. Much like online education, there are a bunch of paper trading websites out there and some even have games tied to them.
Most brokers have this function built in as well. If you've watched financial TV as of late, I'm sure you've seen the newest commercial by one of the big online brokers touting this very feature to gain new customers. That should tell you how powerful practicing is.
Every success with MarketClub,
Adam Hewison
President, INO.com
Co-Creator, MarketClub