This is turning out to be a very expensive week for investors who are still holding long positions in this market. As I warned late last year and all this year, I felt the market was and is going to be volatile and more than likely going lower.
Let's go back several years to the first quarter of 2009 when the equity markets bottomed out and began their six-year climb to the stars.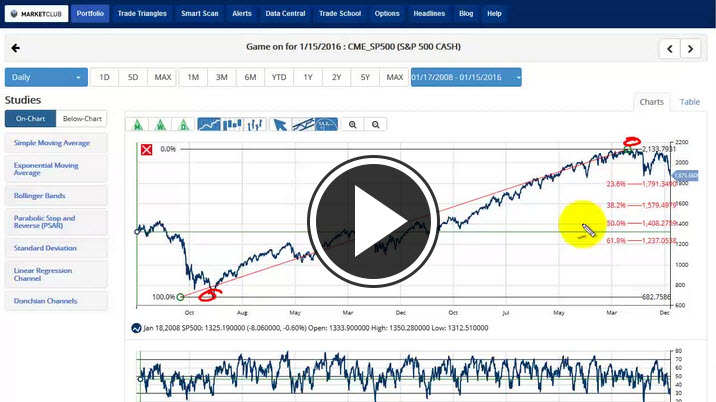 If you look at the S&P 500, you can see that it made a low on the week of March 2, 2009 at 683.38. Six years later on the week of July 13th it closed at a high of 2126.64. I want to look at the market using the Fibonacci tool and see potentially where this index might be headed on the downside. A classic 38.2% Fibonacci retracement takes this index back to 1,574, (it closed at 1,921.84 yesterday). A 50% retracement would bring the S&P 500 back down to 1405.51 and a 62% retracement would take it all the way back down to 1236.24.
The S&P 500 closed last Friday at 1922.03
Looking at the NASDAQ and using the same Fibonacci retracement points, you come up with the following numbers: A 38.2% retracement takes it back to 3,723, a 50% retracement pushes the market down to 3,265 and a 62% retracement takes it all the way down to 2,807.
The NASDAQ closed last Friday at 4642.88
Now, let's take a look at the DOW and see just how far the potential is on the downside. A 38% retracement would bring it down to 13,909, a 50% retracement equals 12,544 finally a 62% retracement brings it all the way back to 11,180.
The Dow Jones closed last Friday at 16,346.45
After a six-year bull market, I would not be surprised to see these indices get back down to at least the 50% retracement levels.
Investors who are new to the market in the last six years may think the market can only go one way and that's up. Unfortunately, they have never seen a real bear market, even seasoned investors may have forgotten what a real bear market can do to a portfolio.
Bear markets are brutal, they just maul and tire out investors (hence the name). A bear market is the complete opposite of a bull market that charges ahead, like a bull would do. A bear market is unforgiving and weighs upon the market with short term rallies that trick investors into thinking that the market has made a bottom (yesterday was a good example that phenom).
On the other side of the coin, gold and gold stocks continue to hammer out a base to go higher. What that tells me is that many investors are skittish about stocks and money and want to be in hard assets.
Spot gold closed last Friday at $1104
The SPDR Gold Shares (PACF:GLD) closed last Friday at 105.65
Barrick Gold Corporation (NYSE:ABX) closed last Friday at $8.42
Crude oil continues its downward track and is now in a target zone that I predicted several weeks ago between $30 and $28. While technically this market is in a strong downtrend, I would not be putting on any long term short positions at these levels.
Crude Oil (NYMEX:CL.G16.E) closed last Friday at $33.15 a barrel. The cost of a gallon of milk is now more expensive than the cost of a gallon of gas.
Don't forget, you need to be disciplined and not be trading on hearsay or rumors. Holding cash is a position in and of itself, there are going to be many opportunities in 2016 to make some really good money, but you are going to have to stay disciplined and use patience before you put your hard earned money on the line.
After you view today's video, checkout our new mobile charts that are available free of charge to all members. These charts play on every platform from smart phone, tablets and of course, laptop and desktop computers.
Want to learn about options? Here is a different and useful way to use your MarketClub tools to find options trades - MarketClub Options. I think you will find this approach very useful given the current volatility in the markets.
Have a great long weekend everyone, I will be back on Tuesday.
Stay focused and disciplined.
Every success with MarketClub,
Adam Hewison
President, INO.com
Co-Creator, MarketClub