It's hard to believe that we just have one more trading day in January, which has been an extraordinarily volatile month and one that will certainly go down in the history books.
Many of the well-known large stocks are now in downtrends and are not likely to have major turnarounds anytime soon. One has to remember that the stock market looks six months ahead. While many of the companies are perhaps enjoying some good earnings, this may be the last good earnings season we see for some time to come.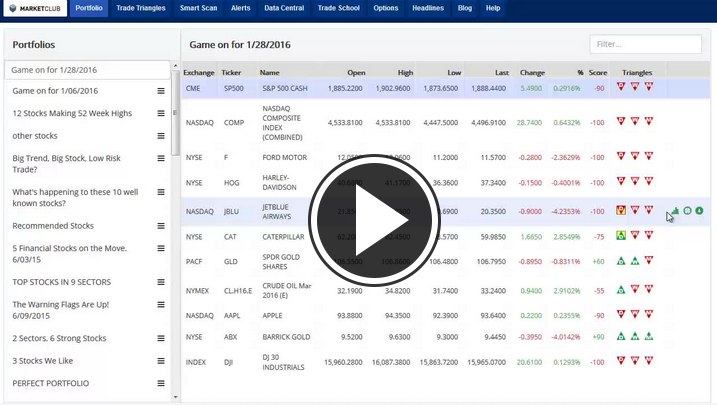 On a brighter note, my trade in Apple Inc. (NASDAQ:AAPL) turned out well and it would now look as though Apple is going to be on the defensive for several months. I can see this stock continuing to erode down to perhaps the $80 level.
Let's look at some other well-known stocks that are all in major downtrends at the moment.
Despite announcing great earnings today, Under Armour Inc. (NYSE:UA) is in a downtrend as is Starbucks Corp. (NASDAQ:SBUX) and Netflix.com Inc. (NASDAQ:NFLX).
If the economy is so good, why would these major players all be in downtrends?
The Fed and Central Banks have played all their cards and have nothing left play. In other words, the Fed and Centrals Banks have no magic tricks in their bag that they can suddenly pull out and make everything wonderful again. We cannot harbor the hope of Janet Yellen coming to the rescue in the future.
This week saw a strong rally in the gold market and a pullback early this morning. I think that this market could be in the beginning phase of a bull market that could last well into 2016. Watch this market closely this year.
For the moment, crude oil has stopped going down after reaching my target of between $28 and $30 a barrel. It is too early to tell whether this is the bottom or just a resting period for crude oil. The coming weeks will certainly provide many more clues as to the direction of this market in the months ahead.
Today I will do an overview of the markets and share with you some key levels that I see rapidly approaching and if broken, could point to further erosion in the stock market.
Stay focused and disciplined.
Every success with MarketClub,
Adam Hewison
President, INO.com
Co-Creator, MarketClub