After a disappointing 2015 for the stock market in general with the S&P 500 ending basically flat, investors will need to exercise extra care when selecting solid companies for this year. One way to make sure your stock picks are high quality is to follow those that performed well in an otherwise apathetic market.
When macroeconomic fundamentals aren't giving off a positive vibe, investors need to focus on microeconomics – individual companies and their strengths. Certain sectors of the market actually enjoyed a very successful year last year but got overshadowed by the malaise seen in the markets as a whole.
China's continued downfall means tough times for the global economy with a significant impact on commodities and currencies especially. Additionally, entering a major political year could translate into some volatility. The Fed has begun its process of raising interest rates while the global battle in oil is likely to cause some upheaval throughout the year as well.
Sectors that performed well last year and are relatively insulated against the impact that China is having on the global economy could provide investors with a boost this year. A sector that relies on consumer spending could be a good idea. The restaurant industry played host to a number of companies that consistently beat earnings last year and enjoyed the benefits of low gas prices. One restaurant, in particular, outperformed the S&P 500 last year and is poised for a repeat year in 2016 without being negatively impacted by China or low oil prices.
A Company That's Standing Out Against A Lackadaisical Market
Darden Restaurants Inc. (NYSE:DRI) is an $8 billion restaurant chain with recognizable brands such as Olive Garden, Longhorn Steakhouse, Bahama Breeze and others. The company operates over 1,500 restaurants in total and has been making some smart moves to outpace its competitors in an otherwise anemic marketplace.
Olive Garden alone makes up 55% of Darden's earnings and the segment has helped propel Darden's stock lately. Olive Garden's sales were up 1% even in the face of higher prices while its efficiencies initiatives finally began paying off with a 12% increase. Major renovations and new technological additions have made the restaurant well prepared to meet customer demands with to-go orders increasing by 32% over the past few years.
The company's move back in 2014 to sell off Red Lobster has begun paying off as well with its long-term debt falling 41%. The company has also beaten earnings for the past 6 quarters in a row with an average upside surprise of 20% in the past year.
Taking a look at Darden's chart, we can see that its stock is on the rise.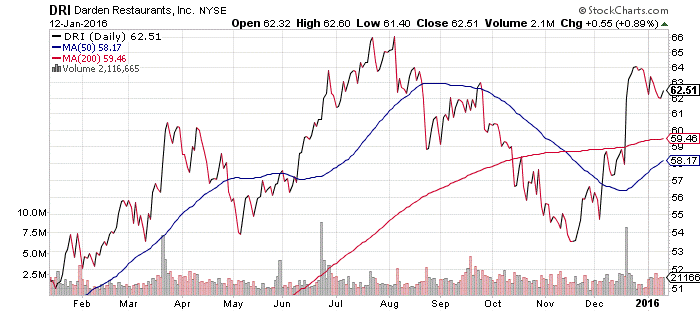 Chart courtesy of StockCharts.com
It took a dive towards the end of 2015 but has since been on an upward tear. Notice how the 50-day moving average dropped below the 200-day but is quickly recovering and well on its way to overlapping it over the next month or two.
The stock is also cheap relative to the industry average with a P/E of 19.8 compared to 26.8. Estimated full year EPS for 2016 is in the $3.25 to $3.35 range – an increase of 23% to 27% from 2014. For the long term, growth is expected to be between 7% and 10%. Additionally, the stock comes with a healthy dividend yield of 3.20% helping protect investors from downside loss.
Taking into consideration the company's EPS growth estimates and P/E, the stock is fairly valued at around $72 – a potential 15% pop.
Check back to see my next post!
Best,
Daniel Cross
INO.com Contributor - Equities
Disclosure: This contributor does not own any stocks mentioned in this article. This article is the opinion of the contributor themselves. The above is a matter of opinion provided for general information purposes only and is not intended as investment advice. This contributor is not receiving compensation (other than from INO.com) for their opinion.