Welcome to the first day of trading in February. If it is anything like January, it's going to be quite a month.
After the close today, Alphabet, Inc. (NASDAQ:GOOG) will announce its earnings. If it is a blowout and Google surges $25, it will then become the most valuable company in the world - not bad for a company that was founded on September 4, 1998 and has only been around for 17 years. It took Apple, Inc. (NASDAQ:AAPL) which was founded April 1, 1976, almost 40 years to become the world's most valuable company.
Today, Google flashed a buy signal putting both the monthly and weekly Trade Triangles in unison. That indicates there are good odds that Google will beat its earnings estimates after the close. There are no guarantees, but the odds would favor being long Google before the close.
Let's take a look at the rest of the markets which are not having such a good time of it. The dramatic rally on the last day of trading in January was more a function of short covering than anything else. Most stocks and indices are in a longer-term bearish trend based on MarketClub's Trade Triangle technology.
Taking a look at the S&P 500 (CME:SP500), you can see that it has rallied back to the RSI resistance area (2) and has also found resistance at the 38.2% Fibonacci line (1). I expect to see the S&P 500 dance around for a while before eventually resuming its downward trend.
Gold made a strong upward move this morning, however as I said in my last video, I will be looking to take partial profits in some of my gold holdings today. Barrick Gold Corporation (NYSE:ABX) is extremely overbought (2) and also in a Fibonacci resistance area (1) that I expect will hold the current rally.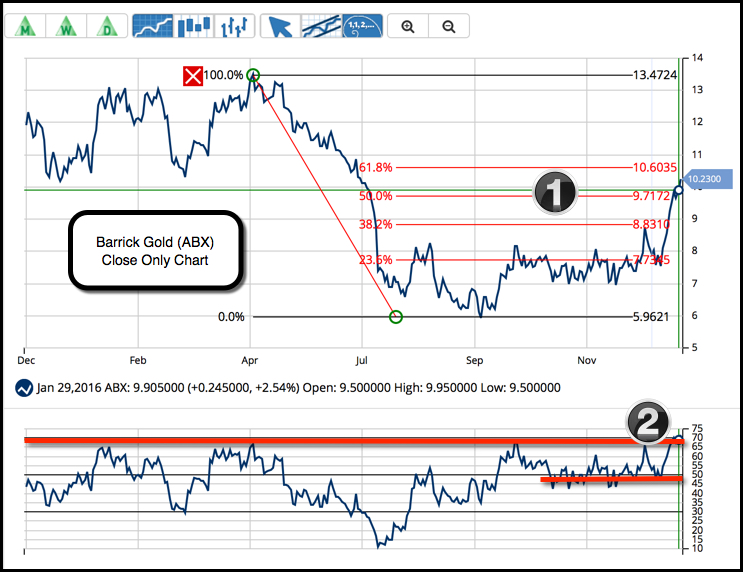 Crude Oil (NYMEX:CL.H16.E) resumed its downward spiral again today indicating that once again this market has not made a turnaround to the upside. Looking at the chart, you can see that the RSI line (2) is presenting a formidable resistance zone for this commodity. Also, you can see a parallel downward channel (1) indicating that the bigger trend remains negative for crude.
In the next couple of weeks I expect to see choppy markets as the major indices decide if they're going to continue their downward path or make a stand and reverse to the upside. Until I see differently, I believe that we will see further weakness to the downside.
Stay focused and disciplined.
Every success with MarketClub,
Adam Hewison
President, INO.com
Co-Creator, MarketClub