After the close today, The Walt Disney Company (NYSE:DIS) announces its earnings for the fourth quarter. Analysts are expecting Disney to make $1.45 a share on revenues of 14.7 billion. But here's the rub, ESPN which produces 45% of Disney's revenues, lost 3 million subscribers last year and is now a potential Achilles' heel for Disney.
Here's how I'm looking at Disney:
The Trade Triangles are all red and negative indicating lower prices. Technically the chart for Disney looks dismal at best. Based on those two elements, I expect Disney to either come in on analysts estimates or to miss their earnings. I do not expect to see a surprise on the upside here. Based on that analysis you would want to be short (if you're not already based on the Trade Triangles) Disney before the close today.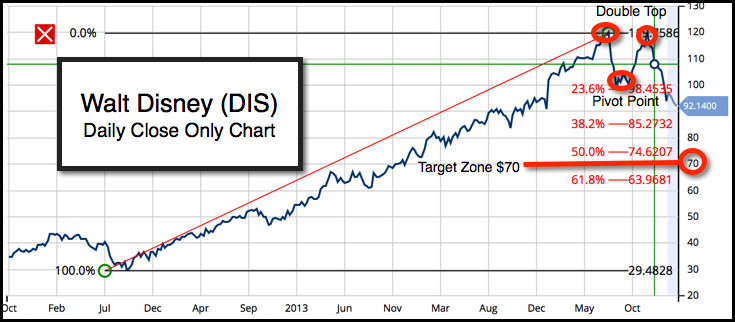 Another stock that is set to report fourth-quarter 2015 results after the close today is Akamai Technologies Inc. (NASDAQ:AKAM). Analysts estimate that this stock should have positive earnings of around $0.50 a share. I would be surprised given the overall negative tone of tech stocks that even if Akamai reports good earnings, it won't go far on the upside. Technically speaking this stock according to the Trade Triangles is in a major downtrend, it has however completed a 61.8% Fibonacci retracement and is within striking distance of a long-term support line which comes in around $37 a share. I would be more inclined to go with the trend and stay short this market. The original Trade Triangle sell signal for this stock came on 7/6/15 at $69.13. Akamai closed on Monday evening at $40.98.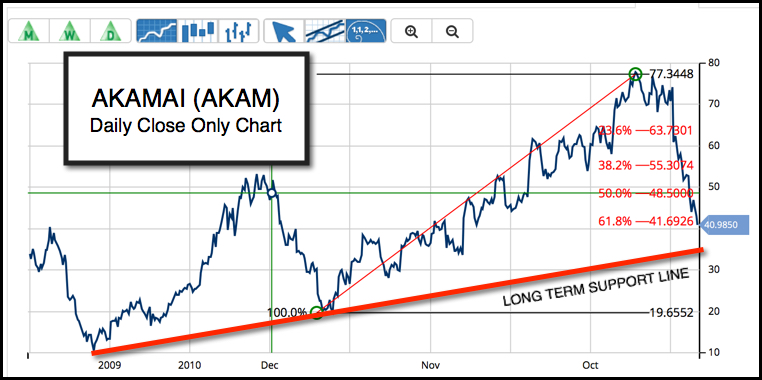 The last major stock that is announcing its fourth-quarter earnings after the close is Panera Bread Company (NASDAQ:PNRA). Panera Bread is swimming against the tide as it has a generally positive trend according to the Trade Triangle technology. Both the weekly and monthly Trade Triangles are in agreement and are positive on Panera. Technically speaking, this stock still has significant resistance around $199. You should be in a long position purely based on the Trade Triangles at $198.68. Should you buy Panera for an earnings surprise to the upside given the prevailing negative mood of the markets is a good question. Based on Monday's close around $186.00, the risk is about 4% with a stop at $179 which is Trade Triangle exit point.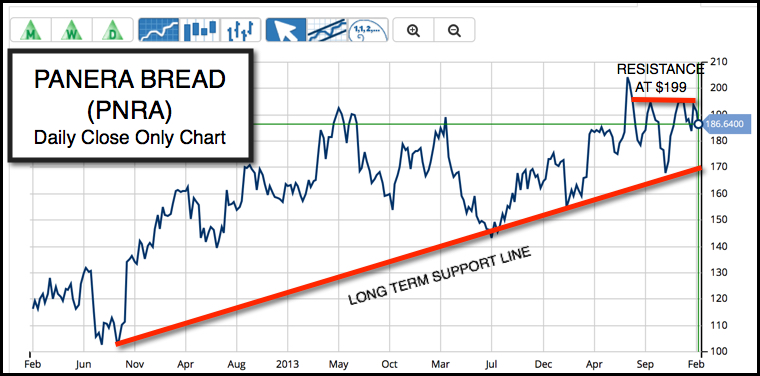 Just a quick word on the major indices – make no mistake about it bear markets are ugly, unforgiving and last longer than most investors think. I believe the current bear trend that we are now in can continue for months and we still have further to go on the downside, in my opinion.
The price of crude oil has flattened out, but is still generally in a bear trend. The only bright shining star right now is gold which I have been bullish on for some time and is fast approaching $1200. Just as the equity markets are in bear trends, gold is doing just the opposite and is in a bull market.
Investors' eyes will be on Disney, Akamai and Panera Bread after the close to see if they beat or miss their earnings estimates.
Stay focused and disciplined.
Every success with MarketClub,
Adam Hewison
President, INO.com
Co-Creator, MarketClub