Undoubtedly, this February will be remembered as painful for the dollar. Investors have long awaited the opportunity to short the greenback after a prolonged period of steep gains. When US growth came out surprisingly weak, FX traders pounced, taking the dollar on a brutal roller coaster ride.
Then we had Janet Yellen's testimony, which suggested banks should be prepared for negative interest rates. Many considered that a hit below the belt as investors were betting on more rate hikes. So now, they've got to get ready for negative interest rates? No one was prepared for that remark, despite Yellen's suggestion that it was only a remote possibility. Of course, now, the million dollar question is, how low can the dollar go?
Short Term Dollar Outlook
As with all corrections, the first catalyst is always about momentum. The question of whether that will lead to a wider correction is fundamental. But what about the imminent target? That's driven by technical momentum. So what do the technicals say?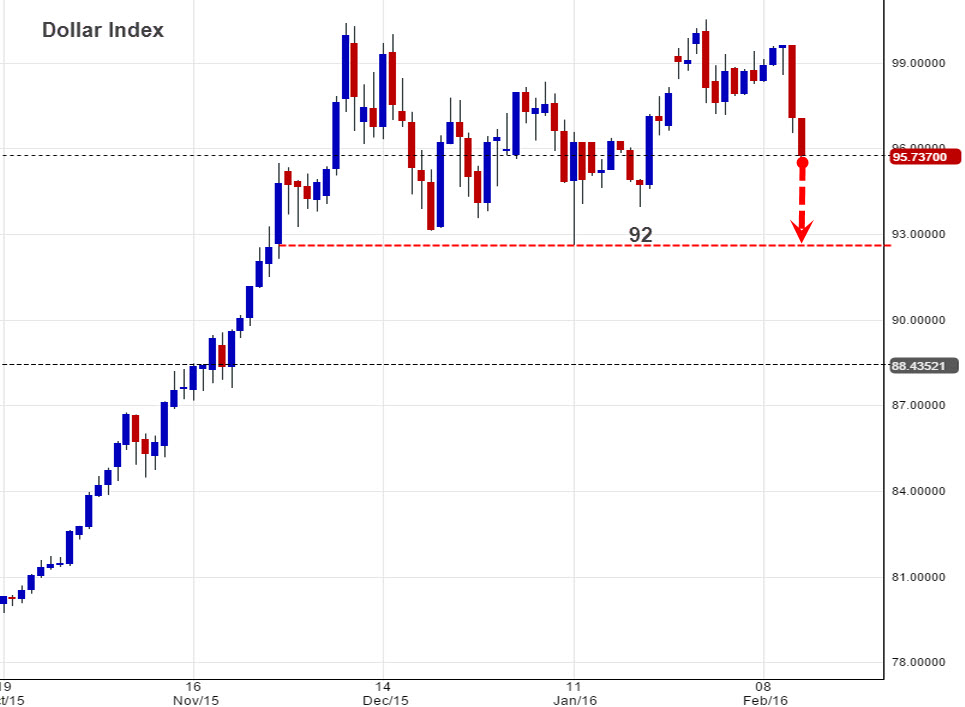 Chart courtesy of Netdania.com
As seen in the Dollar index chart above there are two key levels in this correction. The first is our resistance level at 100. The Dollar index has been attempting to break this level for a while now, though without success. When the Dollar index failed, it was really only a matter of time before the correction would come. And so as it did.
Then we have our support level, at 92. As one can see, this level has been critical because if it breaks it will signal a much broader dollar correction. Thus far, it has held.
Now, let's look at what is happening between the 100 and 92 levels. As previously stated, the index has tried to break 100 for the second time (without success). Thus, there's a very high likelihood that it will slide all the way to 92 to regain momentum. The technicals dictate that a loss of momentum tends to send the pair testing its nearest support level. In our case, of course, that's at the 92 level. Therefore, the most imminent target for the Dollar index is 92, which is roughly 4% lower from where we are now.
Long Term: Dollar Outlook
To determine whether the 92 support will break and lead to a wider dollar correction we must first look at the fundamentals. The question is will the fundamentals hold steady? True, annualized Q4 US GDP growth slowed to 0.7%, and the Fed did sound more dovish. But one important factor that continues to look bright is credit. That will show us where the US economy is heading and that it is still on a growth trajectory.
In previous analyses of the US economy, I stressed that the key tool for identifying a temporary soft patch or a recession is credit. If credit grows, it usually translates into more spending, both by consumers and business. And that, of course, means more growth for business. Those are, of course, the two pillars of the US economy.
Hence, if credit to consumers and businesses is on the rise, it means growth will return sooner rather than later. As you may have guessed, that means the dollar correction could come to a halt after the expected 4% decline. But if credit fails to grow, then that means the fears for growth are real. Thus, the dollar correction will take us lower for longer.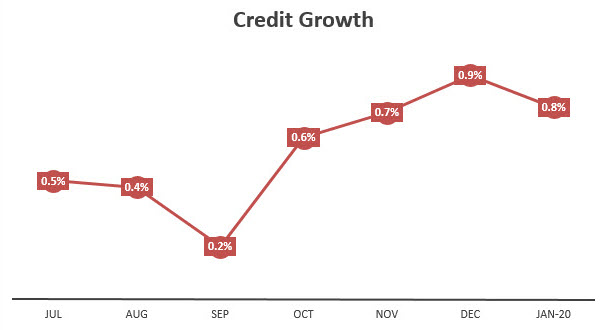 Take a look at the chart above, which was compiled by the Federal Reserve Bank. Since September, credit on a month-over-month basis has accelerated. And while the January figure seems to point that credit growth had slowed, notice that this represents data until January 20th. That means when the month ends we can expect to see credit growth accelerating, even in a "bleak" January.
In other words, the Fed's rate hike did not impact US credit growth. Sooner rather than later that growth in credit will allow growth to accelerate once again.
And what does it mean for our dollar analysis? That long-term US fundamentals remain strong and hence the 92 level is less likely to break. Therefore, the dollar correction is likely to fade in a few weeks time.
The Bottom-line
For those that are looking to short the dollar, beware as you may soon hit a wall of buyers. And for those that intend to buy the dollar for the long term? It's a classic buy on the dips scenario once again
Look for my post next week.
Best,
Lior Alkalay
INO.com Contributor - Forex
Disclosure: This article is the opinion of the contributor themselves. The above is a matter of opinion provided for general information purposes only and is not intended as investment advice. This contributor is not receiving compensation (other than from INO.com) for their opinion.