Hello MarketClub members everywhere! Here we are starting a new trading week and the big news is a sharp rally in equities and a big pullback in gold. The question on everyone's mind is, "is this for real or just a rally in a bear market in equities and a pullback in the bull market for gold?"
Gold
Let's take a look at gold, first of all. I believe that the gold (FOREX:XAUUSDO) market has finally come to life again after hitting a peak in August 2011 and then losing the half its value over a period of four years.
Looking at a long-term chart of monthly gold prices you can see that (2) was the first time that gold had moved below the RSI 50 line. This long-term indicator was showing you that gold prices were in serious trouble. It is also worth noting that the RSI indicator (3) has stopped every rally in gold. I expect to see more consolidation in this market and then see gold break over its resistance at the RSI 50 level. When that happens, expect to see a potential multiyear bull market to take place in gold.
S&P 500
While gold was in a four year decline, equity prices and the S&P 500 (CME:SP500) were moving in the opposite direction. Yes, there were two false signals (1) during this time frame, but when you look at the chart, you can see how it did not alter the longer-term bullish picture. You would have gotten back in the market very quickly when the RSI indicator moved back over the 50 line. Bottom line, you may have stayed on the sidelines for about a month or two and you would not have missed the big move.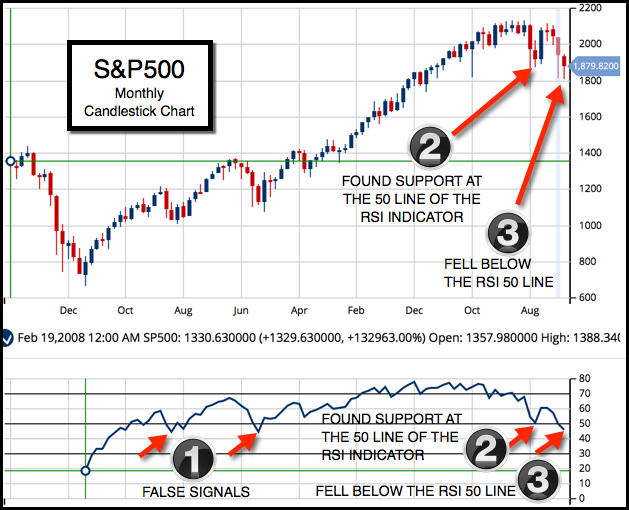 So why do I think it's different this time? Two reasons, (2) you can see that the drop in the S&P500 that took place six months ago found support at the 50 RSI line. In the number (3) you can see that it has now broken below the RSI support line at 50. Now these are monthly charts so there is still time left in the month where this could change the RSI line which could again act as support. I do not think this is a likely scenario as the chart pattern is very different from the two earlier breaks below the RSI line (See fig (1)).
While this is going to be a short four day trading week, it should be very interesting to see how things work out for the rest of the week and how the markets close on Friday. I suspect that gold will close out the week in a consolidation phase and that equities should close lower than last Friday.
Don't forget to be nimble this week as these are extremely volatile markets.
Stay focused and disciplined.
Every success with MarketClub,
Adam Hewison
President, INO.com
Co-Creator, MarketClub