In Ireland, February 29 is Bachelor's Day - a traditional holiday when women propose to men. Scotland began the tradition in 1288 by passing a law permitting women to propose and if refused, the man had to pay a fine. Only in Europe.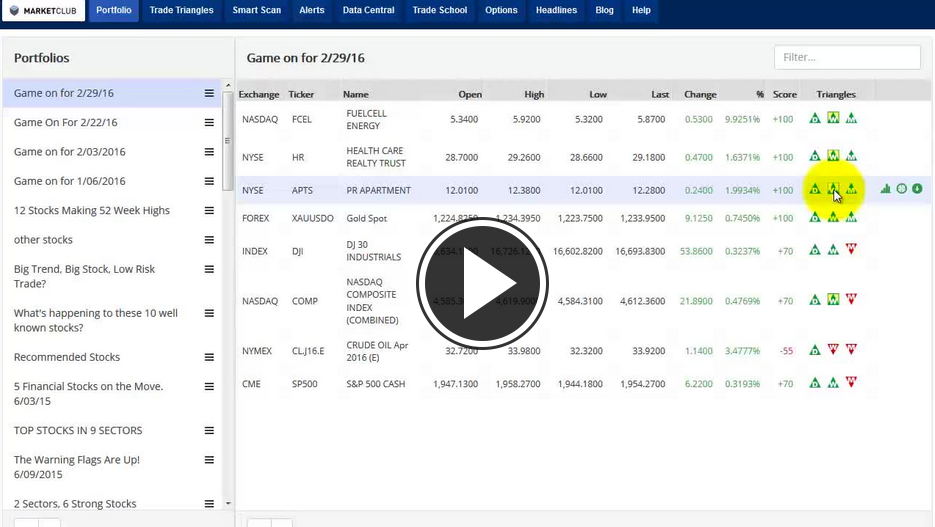 Leap years are also election years, as every politician knows, four years is just enough time for the electorate to forget all their broken promises from last time around. Plus, we all must take a giant leap of faith when you go to the polls.
Okay, back to the markets. It is hard to believe that we are rapidly coming to the end of the second full trading month of 2016. The first two months have been extraordinarily volatile with triple digit swings becoming the norm. As we move into March, I expect to see the markets begin to settle down somewhat.
So what's trending so far in 2016?
One of the strongest trending markets in 2016 has got to be gold (FOREX:XAUUSDO). After hitting a low of $1061 in early January, it moved up over $200 in the space of eight weeks. As I have outlined in earlier posts that this market can still move significantly higher in the months ahead. Gold is trending to the upside and that trend is likely to continue in 2016.
Trending the other way is crude oil (NYMEX:CL.J16.E) which has been steadily moving lower in 2016. The April contract traded as high as $40.00 in early January before plummeting to below $30. While this market has stabilized in the last several weeks, it is still too early to say that the downtrend is over.
Two of the three major indices are now trapped in a broad trading range and look to close out the month of February little changed. The major trend for all three major indices continue's to be on the downside. I expect to see all three indices trend lower in 2016.
Now more than ever investors need a clear, unambiguous, non-biased approach to the markets. With super Tuesday coming tomorrow and the upcoming elections there could be all kinds of rumors, disappointments and a host of other things that could jinx everything. Only by using an approach like MarketClub's Trade Triangle strategy can you get a clear picture of what is really going on in the markets.
In Favor for 2016: Facebook Inc. (NASDAQ:FB), Groupon Inc. (NASDAQ:GRPN), Panera Bread Company (NASDAQ:PNRA), Barrick Gold Corporation (NYSE:ABX) and Dunkin' Brands Group Inc. (NASDAQ:DNKN).
Out of Favor for 2016: Apple Inc. (NASDAQ:AAPL), Tesla Motors Inc. (NASDAQ:TSLA), Yum! Brands Inc. (NYSE:YUM), Zynga Inc. (NASDAQ:ZNGA) and CBS Corporation (NYSE:CBS).
I will be wrapping up the month of February today and looking ahead for the month of March.
Stay focused and disciplined.
Every success with MarketClub,
Adam Hewison
President, INO.com
Co-Creator, MarketClub